Reading Time:
6
minutes
Summary
Season Six is the latest Sea of Thieves content update, available March 10 and free for all players with Xbox Game Pass and across Xbox Series X|S, Xbox One, Windows 10, and Steam.
Storm the imposing new Sea Forts, enjoy time-limited Adventures that advance the game's narrative, and look forward to an exclusive Pirate Legend Voyage coming later in Season Six.
Seasonal progression allows all players to earn Renown and rewards, with optional Deeds to boost progress and a purchasable Plunder Pass to expand the reward pool.
As the birds begin chirping and the buds start blooming, a new Season springs into life for Sea of Thieves! Along with an offering of brand-new Seasonal rewards, Season Six is all about expanding Sea of Thieves' narrative through time-limited Adventures, while still giving you opportunities to forge your own epic tales of derring-do – with Sea Forts and the new Pirate Legend-exclusive Voyage, Legend of the Veil. If you can't wait to write the next chapter in your pirate's memoir of high-seas adventure, Season Six is now available as a free update for all players with Xbox Game Pass and across Xbox Series X|S, Xbox One, Windows 10 PC, and Steam.
Like our past Seasons, Season Six and its 100 levels of rewards are free to all Sea of Thieves players, with cosmetics and other goodies earnable as you build Renown by going about your pirate business. If you want to spice up your Seasonal climb to Level 100 with more premium items not yet available anywhere else, you can purchase the optional Season Six Plunder Pass! Find out more in our Seasons Explained and Plunder Pass Explained articles.
---
Smash and Grab
---
Brought forth from the Sea of the Damned by the machinations of Captain Flameheart, six Phantom-filled Sea Forts have now appeared around the Sea of Thieves for brave pirates to plunder. With a focus on combat and loot to be liberated, Sea Forts provide a satisfying on-demand experience for battle-hungry sailors or those who may not have time for a longer Voyage. Enter a Fort, cut down its spectral defenders, scour every nook and cranny for hidden riches, and defeat the Sea Fort Captain to gain the key to the Treasury.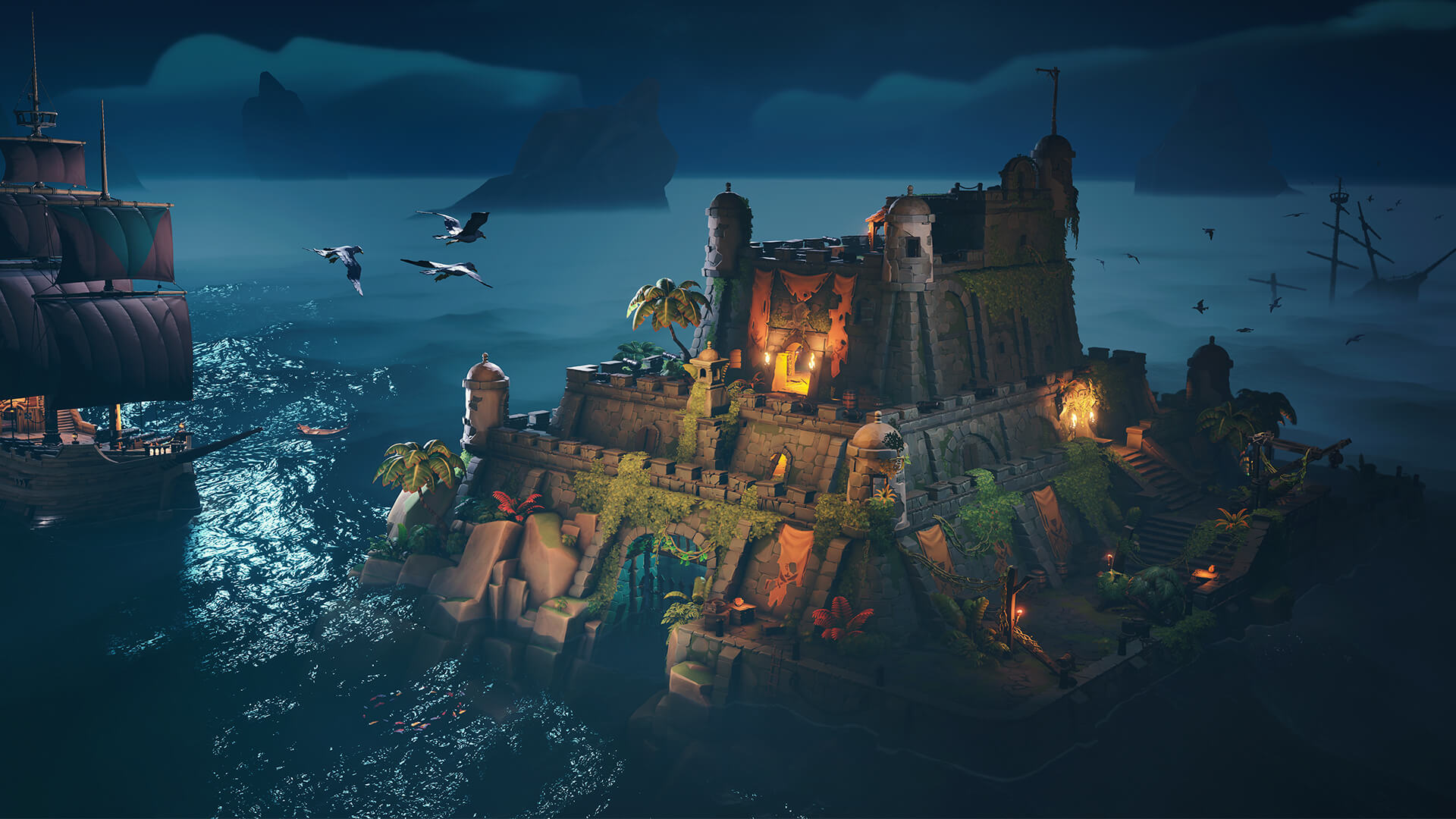 Once a Sea Fort is cleared, you can make the most of its home comforts – including the well-stocked Homestead room with chairs and a blazing fire to put your feet up and share a well-earned grog with your crew. Just be prepared to defend your little sanctuary from other crews who might want it for themselves!
---
Piercing the Veil
---
Narrative-driven Adventures will continue throughout Season Six and beyond, keeping the Sea of Thieves world and lore in constant motion. Adventure 2, 'Forts of the Forgotten', will soon pick up the thread from the recently concluded 'Shrouded Islands'. But another story-centric feature is also set to make its mark later in Season Six. Legend of the Veil, a new Voyage exclusive to Pirate Legends, will send you out hunting for lost Veil Stones across dramatic new locations and facing an ever-changing series of challenges. From haunted islands and shipwreck graveyards to a climactic naval battle against a Ghost Garrison, this is a Voyage you don't want to miss!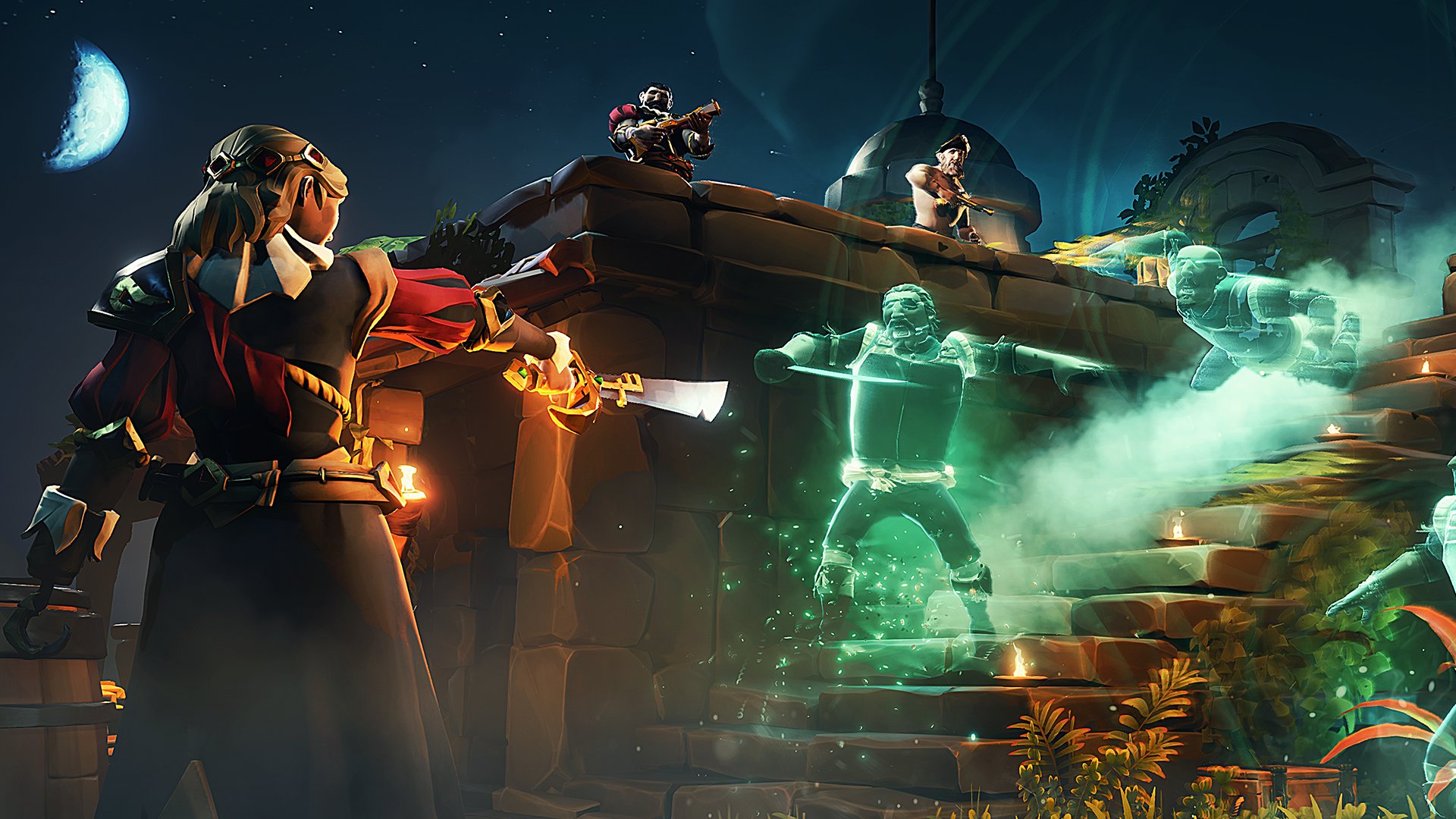 To complement this Legendary content, the maximum rank achievable with the Athena's Fortune Trading Company will be raised from 20 to 30. With a host of new cosmetics, Commendations and achievements on offer, get ready to continue your climb to the top in Season Six!
---
Pirate Emporium Plunder
---
For pirates keen to boost their Seasonal reward pool, the Season Six Plunder Pass is headlined by the complete set of items making up the brand-new Spring Blossom ship set, alongside the evolving Forest's Blessing costume which transforms as you climb the Season's 100 levels. As always, Plunder Pass items are temporary exclusives before heading to the Pirate Emporium sometime in the future.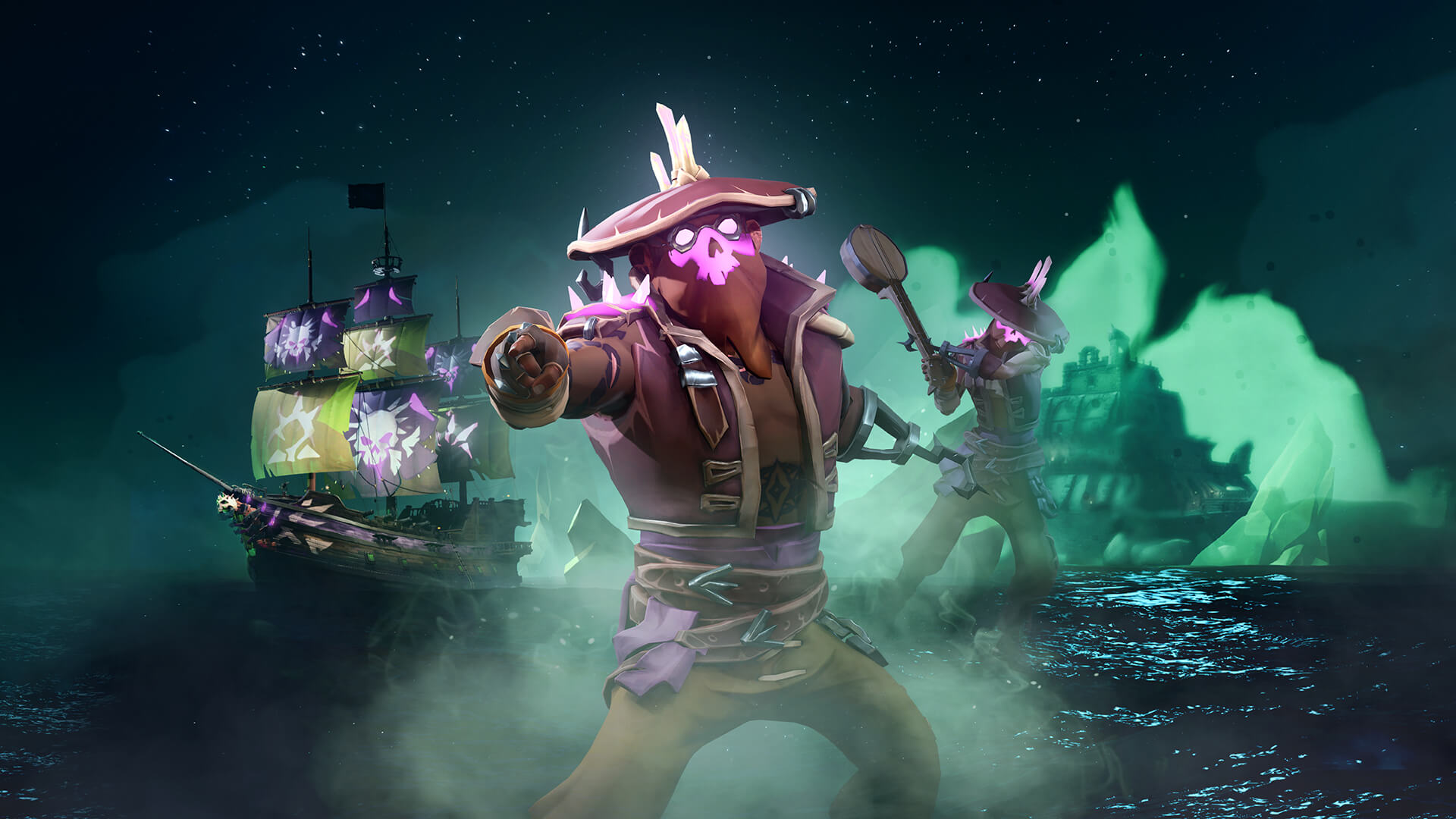 Other standout selections new to the Pirate Emporium in March are the loud and proud Islehopper Outlaw ship set with matching costume, weapons and even a banjo – perfect for the wild-hearted hellraisers, rabble-rousers and ruffians of the seas. Or if you can't help striking a pose at a moment's notice, style it out with the Bunch of Posers Emote Bundle. While you're browsing the Emporium's new wares, remember to pick up this month's free emote too!
---
Find Out More
---
For more information on the Sea of Thieves Season Six update, including full release notes, visit the Sea of Thieves website. The update is available for free to all Sea of Thieves players who have bought the game on Xbox Series X|S, Xbox One, Windows 10 PC or via Steam, or players who have access to it with Xbox Game Pass. Simply download and install the latest Sea of Thieves update to get access.
New to Sea of Thieves? Find out about the latest free content updates on our What's New page and pick up some tips from our Pirate Academy, which provides invaluable information on topics ranging from sailing to swordplay as you prepare for your maiden voyage. Learn more about Sea of Thieves here or join the ongoing adventure at SeaofThieves.com where you can embark on an epic journey with one of gaming's most welcoming communities!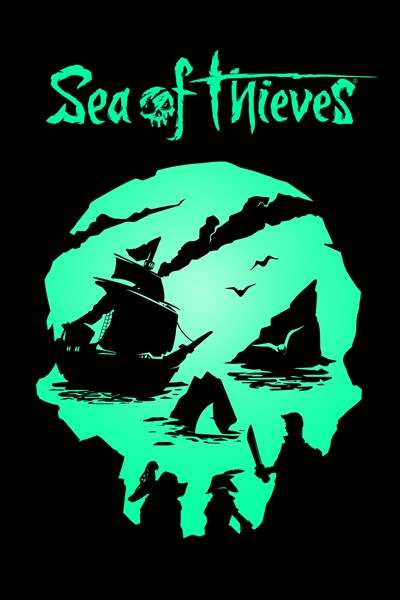 Sea of Thieves
Microsoft Studios
Xbox One X Enhanced
PC Game Pass
Xbox Game Pass
Xbox Live Gold membership required to play on Xbox One; sold separately. ========= About the game Sea of Thieves offers the essential pirate experience, from sailing and fighting to exploring and looting – everything you need to live the pirate life and become a legend in your own right. With no set roles, you have complete freedom to approach the world, and other players, however you choose. Whether you're voyaging as a group or sailing solo, you're bound to encounter other crews in this shared world adventure – but will they be friends or foes, and how will you respond? A vast open world Explore a vast open world filled with unspoiled islands, sunken ships and mysterious artefacts. Take on quests to hunt for lost treasure, seek out cursed Skeleton Captains or gather valuable cargo for the Trading Companies. Go hunting and fishing or choose from hundreds of optional goals and side-quests. Sea of Thieves: A Pirate's Life Play the Tall Tales to experience Sea of Thieves' unique narrative-driven campaigns, and join forces with Captain Jack Sparrow in the newest original story that brings Disney's Pirates of the Caribbean sailing into Sea of Thieves. These immersive and cinematic quests provide around 30 hours of the ultimate pirate adventure. Become Legend On your journey to become a Pirate Legend you'll amass loot, build a reputation and define a unique personal style with your hard-earned rewards. Adventurer. Explorer. Conqueror. What will your legend be? A game that's always growing With five major expansions and almost a year's worth of monthly updates, Sea of Thieves is a service-based game that is continually growing and evolving. Check back each month to see what new content has been added.
Related:
Take on Sea of Thieves First Adventure in "Shrouded Islands," Live Until March 3
Explore the Future of Sea of Thieves in Our Special 2022 Preview Event
Break New Ground in Sea of Thieves Season Five
Website: LINK