Reading Time:
4
minutes
CraftBot has added the new CraftBot 3 Dual to its expansive range of 3D printers. This professional-grade desktop machine offers dual extrusion printing, an advance filament monitoring system, and a 374 x 250 x 250mm build volume. 
The desktop 3D printer market has become increasingly crowded with endless options, making it difficult to decide which machine is the right match for you. For those who want a 3D printer that is highly capable, affordable and respected across the 3D printing community, look no further than the Hungarian-based company CraftBot.
After raising more than $245,000 in their 2014 Indiegogo campaign, CraftBot set upon its journey to develop plug and play machines that are easy to use and provide impeccable quality. Thus far, the 3D printer manufacturer appears to be succeeding at that goal. CraftBot has released a number of FDM 3D printers, including the flagship CraftBot Plus and CraftBot 2. In fact, the CraftBot Plus was awarded as the Best Plug N' Play 3D Printer by 3D Hubs in 2016, 2017, and 2018.
A closer look at CarftBot as a company showcases exactly what makes their product line so unique and highly praised by the community. Each CraftBot 3D printer is manufactured in Europe, and both software and hardware development is entirely done in-house by a team of highly qualified technicians. The company takes all of their customers' feedback into account, allowing them to constantly improve and refine their 3D printers.
Now, to add to its expansive product line, CraftBot has been working on a dual extrusion 3D printer that goes above and beyond what we usually find on the consumer market.
The CraftBot 3 Dual 3D Printer Strikes Balance Between Affordability and Professional Quality
Following their success with the popular CraftBot Plus and CraftBot 2, the Hungarian manufacturer has now released CraftBot 3 – The Supervisor. With a superhero-like name, it's no surprise that this desktop dual extrusion 3D printer has some magical features. At $2,199, the CraftBot 3 is incredibly affordable compared to similar dual extrusion machines.
The CraftBot 3 utilizes an Independent Dual Extrusion (IDEX) system, meaning that the two print heads operate independently from one another. Therefore, users can print two objects at once, or use PVA support material to produce more complex parts. Equipped with silicone discs, the nozzles are wiped clean while the print heads are changing, ensuring that excess filament material doesn't muddle up the surface of your print.
While dual extrusion might seem like the main attraction here, the CraftBot 3 is jam-packed with impressive features that promote quality and accessibility. For starters, there's a state-of-the-art filament monitoring system (FMS) that keeps track of filament consumption, provides troubleshooting when a filament jam is detected and sends messages to the user when manual intervention is required.
With the CraftBot 3, you'll get a sizable build volume of 374 x 250 x 250mm (270 x 250X 250mm for dual extrusion and 187 x 250 x 250mm for multi-part printing). This printer is capable of printing at a layer resolution of 50 microns when using the 0.25mm nozzle. And, if you're concerned about keeping the family up while you print the night away, rest assured that the CraftBot 3 Dual's motor control makes this 3D printer more quiet than ever before.
Despite the low price point, "The Supervisor" is engineered to deal with professional-grade materials. The full-metal hotend makes it possible to print at a temperature as high as 300°C, expanding the range of compatible materials beyond the usual suspects. It's also equipped with high-accuracy ball screws to improve overall print quality.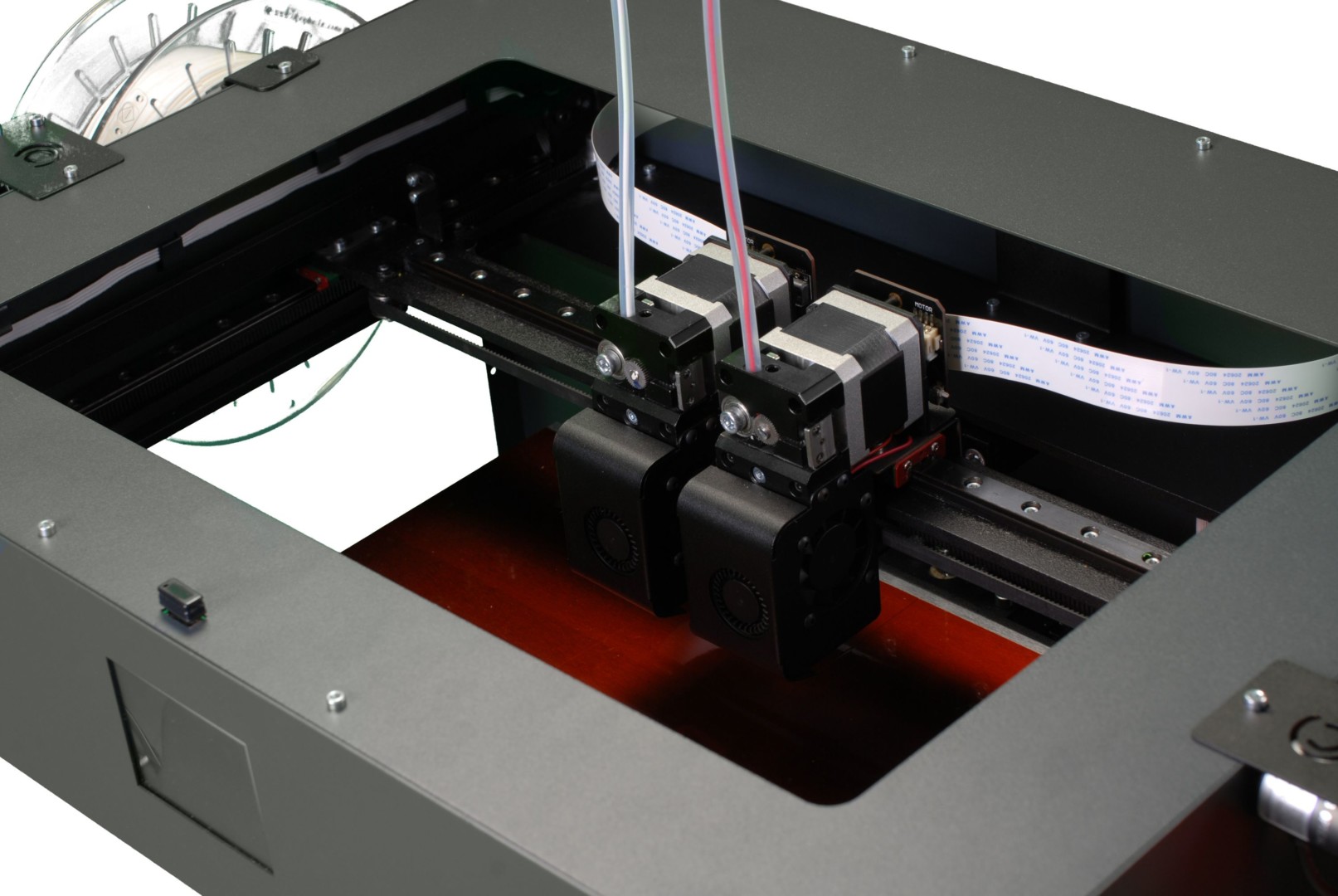 The CraftBot team has implemented optimized object cooling technology into their latest dual extrusion machine, making it easy to print small objects at an exceptional resolution. The heated bed is designed to prevent warping and sticking, and can be easily removed once your print is complete.
The new 3D printer by CraftBot uses different colored LED status indicators to signal the current status of printing that can be customized for an even better experience. Using WiFi connectivity and CraftBot's mobile app, users can upload 3D models to the printer, start and stop print jobs, and even control various printing settings from a remote location.
Website: LINK