Reading Time:
3
minutes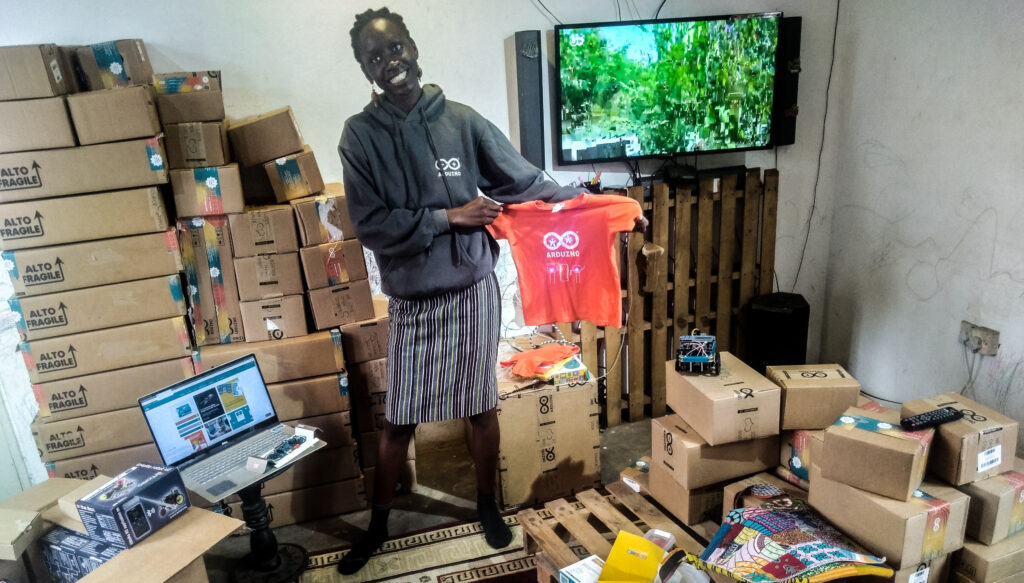 The Arduino #Include program was first announced as part of the 2021 Arduino Day event. Since then, the team has been refining exactly how #Include will help members of the Arduino community to spread our love of electronics around the world.
One of the pilot programs has just taken delivery of equipment provided through #Include. This marks an exciting milestone for Arduino, its users, and a whole community of brand new Arduino lovers in Accra, Ghana.
Jenga Labs in Ghana gets #Include gear
Brenda Mboya is well known at Arduino. She was a guest speaker at Maker Faire Rome in 2019. She's done a huge amount of work in Africa, bringing electronics, robotics and educational technology to students and teachers across Ghana. In 2018, she was listed among the top 25 women in the world to have made a significant contribution to robotics.
Her latest project is Jenga Labs, which she describes as being a "lab on wheels". The objective is to bring coding and robotics to some of the most remote areas of the region. She'll be running courses for 7- to 14-year-olds, and Brenda primarily works to encourage young people into robotics. She's also very active in supporting teachers, and helping them bring, use and understand tech in the classroom.
We're thrilled that Brenda's now taken delivery of the Arduino kits and electronic components we sent her as part of the pilot program for #Include.
We can't wait to see what Brenda's students create with the tools they now have. It's exciting on all kinds of levels. Bringing accessible technology to new people and places, for example. Or finding out how we can begin to expand on this early test case for the Arduino #Include initiative.
More about Arduino #Include
The history of Arduino has been one of inclusivity. Everything here is designed to make electronics accessible to as many people as possible. That's an ongoing challenge that we both relish, and take seriously.
In an effort to bring that philosophy to the forefront of the ongoing business, we've developed the Arduino #Include program. We'll build on our efforts of expanding the understanding of electronics and technology. This will have a strong focus on the diversity values that Arduino also holds dear.
This means making a special effort to bring visibility to people who use Arduino as a tool for inclusivity, equality, social justice and accessibility. We see this very much as an opportunity. It's a long term program that we hope will help to create positive role models across the tech communities.
Ultimately the #Include initiative will see Arduino help to establish "ambassadors". It'll donate hardware and software services, and give visibility to diverse people and groups across the spectrum.
Which brings us to wishing Brenda all the best with her Jenga Labs robotics project as part of the Arduino #Include program.
We'll keep you posted on Jenga Labs, and about how you can get involved in #Include as the program expands.
Watch this space for more news, and make sure you visit Brenda and Jenga Labs to give them your support!
Website: LINK