Reading Time:
2
minutes
Eine 500GB Konsole, 2 Spiele-Highlights, gratis DLC – kein Aufpreis
Das Bundle umfasst eine schwarze Xbox One inklusive 500GB Festplatte, den neuen Xbox One Wireless Controller mit 3,5 mm Audio Klinke (Stereo Headsets können ohne Adapter angeschlossen werden) und eine 14 Tage Xbox Live Gold Test-Mitgliedschaft.
Mit dabei als Downloadcodes: QUANTUM BREAK und ALAN WAKE, inklusive den beiden DLCs THE SIGNAL und THE WRITER.
All jene, die sich dieses Xbox One Bundle im Handel holen und das Game bis 4. April pre-downloden, erhalten zusätzlich eine kostenlose Windows 10 Version des Games als Download-Code für den Windows Store.
Das Xbox One Bundle ist bereits ab dem 29. März im Handel um 349,99 Euro (UVP)* erhältlich.
QUANTUM BREAK ist das lang ersehnte Action-Highlight von Remedy Entertainment und Microsoft Studios, das die Grenzen zwischen TV-Serie und Game verschwimmen lässt, das der Spielverlauf Einfluss auf die TV-Serie hat. Aber schön langsam: Ein gescheitertes Zeitmaschinen-Experiment hat die Zeit manipuliert. Lineare Ereignisse haben ihre Bedeutung verloren und die Welt versinkt im Chaos. Als Jack Joyce (Shawn Ashmore, bekannt aus "X-Men") kämpfen sich Gamer ihren Weg durch das Chaos und lernen, die Zeit zu ihren Gunsten zu manipulieren. Denn neben einem riesigen Arsenal an Feuerwaffen steht dem Protagonisten auch die mächtigste Waffe von allen zur Verfügung: die Fähigkeit, die Zeit zu beeinflussen und den Verlauf der Ereignisse damit selbst zu steuern. Dabei befindet sich Jack Joyce nicht nur im Kampf gegen die zertrümmerte Zeit selbst, sondern auch gegen seinen ehemaligen Freund und jetzigen Gegenspieler Paul Serene, der mit seiner Security Corporation Monarch Solutions die Zeit – und so das Überleben der Menschheit – für immer beenden will.
Der Remedy Klassiker ALAN WAKE als Teil der QUANTUM BREAK Experience
Jede Version von QUANTUM BREAK für Xbox One, egal ob im Konsolen Bundle oder separat, beinhaltet einen Full-Game Download von ALAN WAKE inklusive der beiden DLCs THE SIGNAL und THE WRITER – dank Abwärtskompatibilität nun auch auf Xbox One spielbar.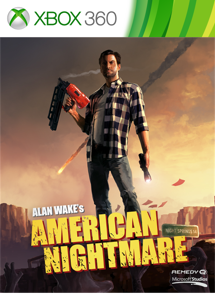 Vorbesteller haben's nochmals besser
Alle Gaming-Fans, die QUANTUM BREAK im Xbox Store oder bei teilnehmenden Händlern vorbestellen, erhalten zudem ein exklusives Pre-Order Zuckerl: den Full-Game Download von ALAN WAKE's AMERICAN NIGHTMARE für Xbox One.
Alle Infos zum Game findet ihr hier: http://www.xbox.com/de-AT/wallpapers/#/collections/quantum-break
Source: XBOX AT Press Release