Reading Time:
3
minutes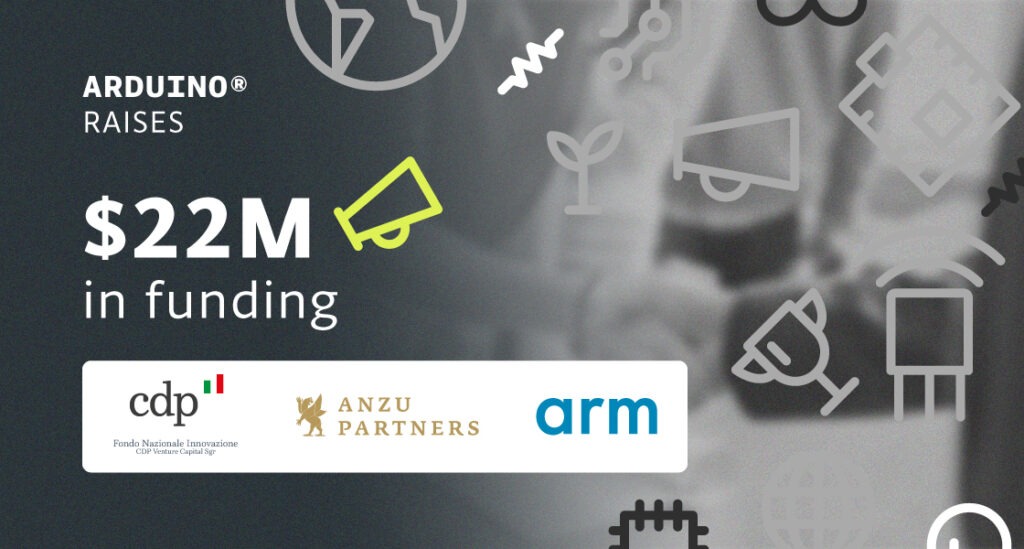 We are happy to announce that Arduino raised an additional $22 million round, taking our Series B funding to $54 million, thanks to an expansion co-led by CDP Venture Capital and Anzu Partners. Joining them is semiconductor leader Arm, following up on earlier investments.
CDP Venture Capital, Italy's largest VC firm, invested through Large Ventures, launched in 2023 to support the scaling up of Italian global category leaders. "We are proud to support the dimensional leap of Arduino, a unique global excellence in the democratization of open-source hardware and software," said Mario Branciforti, Head of CDP Venture Capital SGR's Large Ventures fund.
After the first $32 million Series B financing received in 2022, "This investment will allow us to further fuel our transformational platform initiative for professional customers, lowering the barriers to entry in IoT and AI by providing a continuum from hardware to Cloud," says Arduino's CEO Fabio Violante.
Want to know more about how the funds will be put to good use? A major chunk will be invested to further strengthen the R&D team based in Turin, Italy, with the goal to grow enterprise application libraries and the Arduino Cloud for Business with more integrations and embedded AI features. Another consistent part is earmarked to help Arduino grow even more in the US, where we recently opened an office in Austin, TX and bolstered our presence in Chicago, IL. Finally, we will use the additional funds to accelerate go-to-market initiatives and customer support in selected areas.
"Arduino came a long way from its humble beginning, becoming a powerful industrial tool used by cutting-edge organizations all over the world. I'm honored by this investment which is a further confirmation that our original formula keeps applying to new domains."

Massimo Banzi, Arduino's co-founder, chairman and CMO
This continued and expanding confidence from investors reflects the quality of the work we've been able to do, building a global company based on the strong values we share with every user in our amazing community.
According to Jimmy Kan, Partner at Anzu Partners, "The enterprise ecosystem is on the cusp of a seismic transformation, driven by the convergence of efficient AI and IoT at the edge. Arduino stands at the heart of this revolution, and their commitment to innovation promises to redefine the industry norms." Making technology accessible remains our mission, because the key to our success is empowering users: "Arduino supports an extensive community of developers who play a crucial role in accelerating the deployment of new computing solutions for IoT applications," says Paul Williamson, senior vice president and general manager, IoT Line of Business at Arm.
Amidst great change, we take our role as enablers of innovation seriously, and strive to leverage every resource we can access to expand our platform, keep up our forward momentum, and always enhance our service to you – so you can create the world we will live in.
The post What will we do with an additional $22M? appeared first on Arduino Blog.
Website: LINK