Reading Time:
4
minutes
Watch Dogs: Legion is coming to Xbox One on October 29, setting players loose in a dystopian vision of London where everyone in the open world is a potential playable character. Those who purchase the game on Xbox One can also upgrade to the Xbox Series X version – which takes full advantage of the next-gen console's ray-tracing capabilities – at no extra cost using Smart Delivery.
Watch Dogs: Legion unfolds in the aftermath of bombings that have shaken London to its core. Blamed on the hacktivist collective-turned-resistance group DedSec (but actually the work of a mysterious entity known as Zero-Day), the attacks have left London ripe for a takeover by a corrupt private military corporation, organized criminals, and far worse elements. Taking control of DedSec's remnants, you'll need to uncover the mystery behind Zero-Day, clear the organization's name and save London by building your own rebel group, one citizen at a time.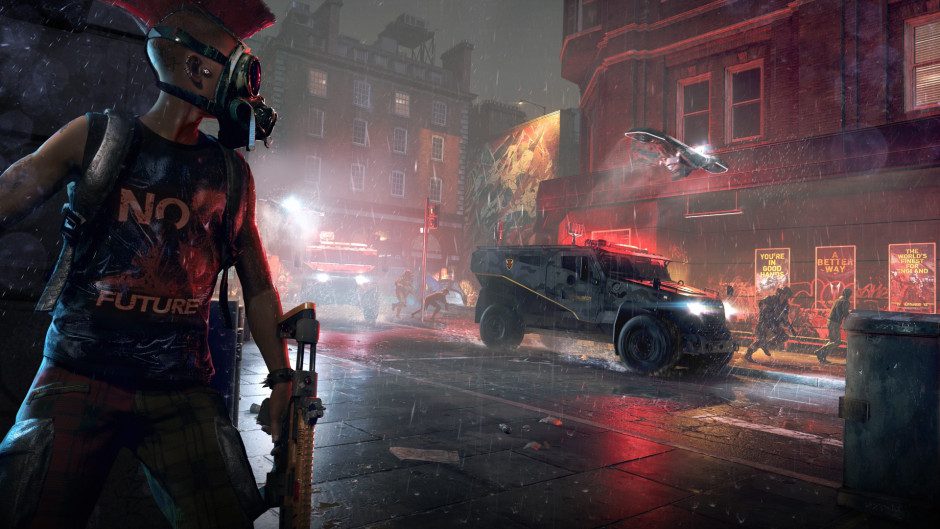 Anyone you see on the street can become a member of DedSec, from construction workers and little old ladies to the mercenary goons and mob enforcers who'd normally be your enemies. Seek them out and find out how to get on their good side, and they'll join your cause. You can recruit up to 40 operatives at a time, and in addition to the phone full of environment-altering hacks that each one carries, every new recruit brings a new set of skills (and sometimes unique weapons and vehicles) to your roster for use in different situations.
A hacktivist's cloaking device and remote-controlled spider drone are ideal choices for a stealthy approach, for example, while a construction worker's huge cargo drone or an MI6 agent's missile-equipped car offer unique ways to get around the city. Some skills are even useful outside of field work; recruit a lawyer or a paramedic, and you can shorten your operatives' jail or hospital stays dramatically.
Watch Dogs: Legion will be available in Standard, Gold, and Ultimate Editions on the Microsoft Store; the Gold Edition includes the base game as well as the Season Pass, which offers access to new story expansions, extra missions, four unique operatives, the Complete Edition of the original Watch_Dogs, and more. The Ultimate Edition includes everything in the Gold Edition, as well as exclusive content including three new operatives, new masks, and four weeks of VIP status to earn in-game currency more quickly.
Freeing London from criminal control is no small task, but with every Londoner as a potential recruit, you'll have plenty of hands to do it when Watch Dogs: Legion arrives October 29 on Xbox One, and on Xbox Series X when the console is available.
Watch Dogs®: Legion Ultimate Edition
Get the most complete Watch Dogs experience with the Ultimate Edition including the base game, season pass, and the Ultimate Pack. Build a resistance made from anyone in the world as you fight to take back a near-future London facing its downfall. Pre-order now and get the Golden King pack featuring a mask, car skin, and 2 weapon skins! Recruit and play as anyone from London. Everyone you see has a unique backstory, personality, and skill set. Hack armed drones, deploy spider-bots, and take down enemies using an Augmented Reality Cloak. Explore a massive urban open world featuring London's many iconic landmarks and fun side activities. Team up with your friends as you complete co-op missions and unique game modes. Uses the Smart Delivery technology – buy the game once and play it on either Xbox One or Xbox Series X when both the console and that version of the game are available.
Related:
Assassin's Creed Valhalla Launches November 17
Ghost Recon Breakpoint AI Teammates, Live Event Coming in July Update
Far Cry 6 Kicks off a Revolution on February 18, 2021
Website: LINK