Reading Time:
3
minutes
Seit der Einführung des neuen PlayStation Plus-Programms vor mehr als einem Jahr haben unsere Fans unsere Angebote sehr gut angenommen – von den hochwertigen Spielen im Spielekatalog wie Horizon Forbidden West und Sea of Stars bis hin zu den neuen Trophäen-Funktionen, die wir Klassikern wie Legend of Dragoon und Syphon Filter hinzugefügt haben.
Heute möchten wir mehr Detail zu unserem PS5-Cloud-Streaming für PlayStation Plus Premium-Mitglieder bekanntgeben. Anfang des Monats werden wir die Veröffentlichung des Cloud-Streaming-Zugangs für unterstützte digitale PS5-Titel aus dem PlayStation Plus-Spielekatalog* und -Spieltestversionen* sowie unterstützte Spiele aus der PS5-Spielebibliothek, die PlayStation Plus Premium-Mitglieder besitzen, starten.
Es werden ausgewählte PS5-Spiele zum Streaming zur Verfügung stehen und wir planen, in Zukunft hunderte PS5-Spiele bereitzustellen, die diesen neuen Vorteil unterstützen. Darin enthalten:
Die Top PS5-Hits aus dem PlayStation Plus-Spielekatalog* wie Marvel's Spider-Man: Miles Morales, Horizon Forbidden West, Ghost of Tsushima, Mortal Kombat 11, und Saints Row IV
Spieltestversionen* von PS5-Spielen wie Hogwarts Legacy, The Witcher 3: Wild Hunt und The Calisto Protocol
Zusätzliche digitale PS5-Titel, die PlayStation Plus Premium-Mitglieder besitzen und die zum Streaming verfügbar sein werden, wie Resident Evil 4, Dead Island 2, Genshin Impact, Fall Guys und Fortnite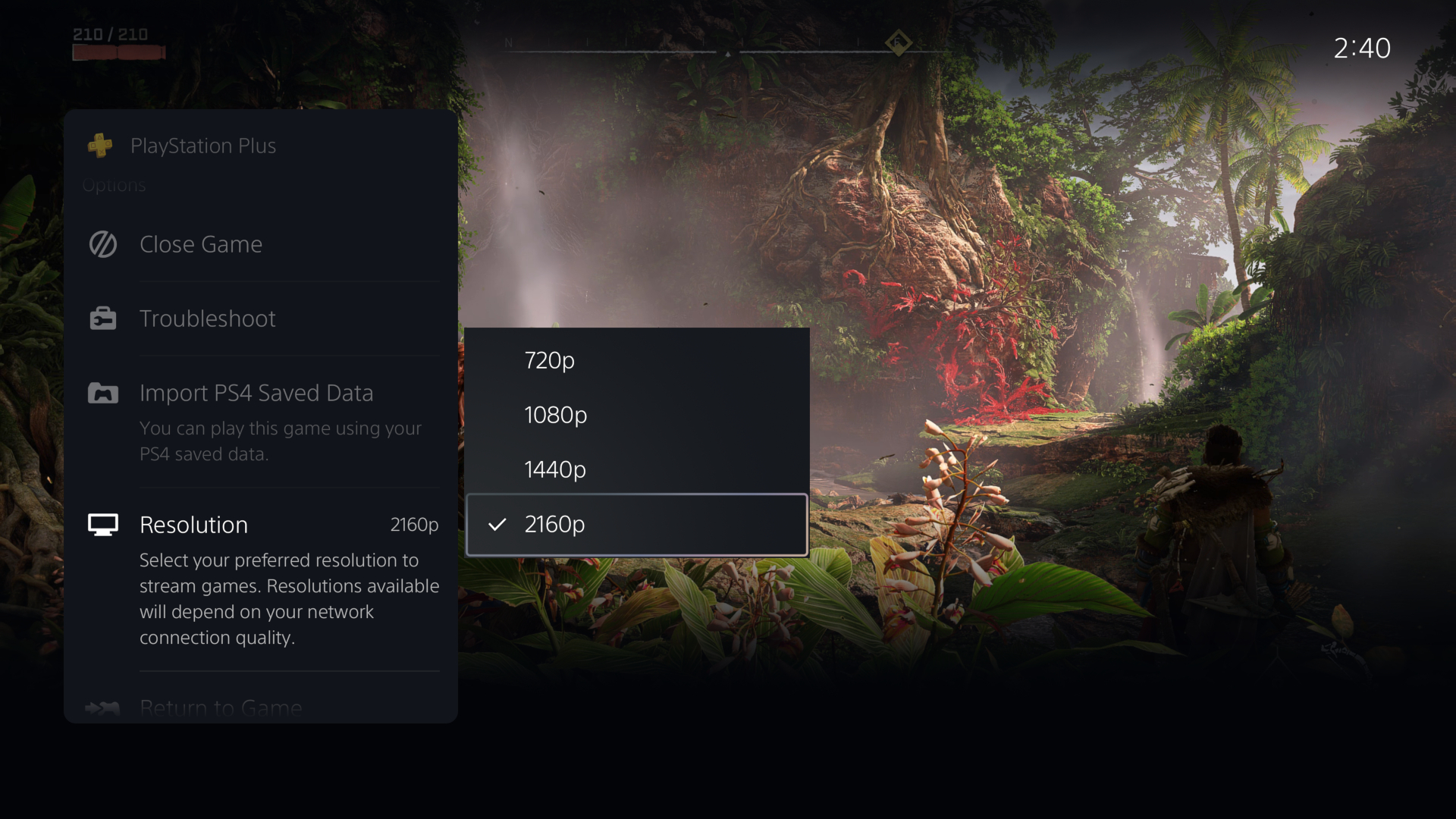 Das sind nur einige Beispiele für unterstützte PS5-Spiele, die optional zum Download auch im Cloud-Streaming verfügbar sein werden.
PS5-Cloud-Streaming wird bei der Veröffentlichung ausschließlich auf der PS5-Konsole verfügbar sein. Spieler mit einer PlayStation Plus Premium-Mitgliedschaft haben damit Zugang zum PS5-Spiele-Streaming, wodurch ein Download des Spiels nicht mehr erforderlich ist. PlayStation Plus Premium-Mitglieder erhalten zusätzlich zum PS5-Streaming-Vorteil noch folgenden Funktionen:
Herunterladbare Inhalte und Käufe im Spiel stehen beim PS5-Spiele-Streaming zur Verfügung. Dies gilt auch für DLCs und Add-ons – ähnlich wie bei Käufen von herunterladbaren Spielen.
Qualitativ hochwertige Auflösungsoptionen**, darunter auch 4K, 1440p, 1080p und 720p mit 60 FPS und SDR- oder HDR-Ausgabe.
Verbessertes Audio mit Unterstützung für alle PS5-Audiooptionen, einschließlich 5.1 und 7.1 sowie Tempest 3D AudioTech.
Erstelle Screenshots und nimm bis zu 3 Minuten lange Videos auf, die in deine Mediengalerie auf PS5 heruntergeladen werden und auch in der Mediengalerie der PS App verfügbar sind.
Da die Einführung mit großem Aufwand für unsere Teams verbunden ist, planen wir eine schrittweise regionale Einführung. Hier findest du die aktuell geplanten Veröffentlichungsdaten, angegeben in den Ortszeiten:
Japan – planmäßig am 17. Oktober
Europa – planmäßig am 23. Oktober
Nordamerika – planmäßig am 30. Oktober
Cloud-Streaming mit PlayStation Plus Premium ist derzeit in Belgien, Bulgarien, Dänemark, Deutschland, Finnland, Frankreich, Griechenland, Großbritannien, Irland, Italien, Japan, Kanada, Kroatien, Luxemburg, Malta, den Niederlanden, Norwegen, Österreich, Polen, Portugal, Rumänien, Schweden, der Schweiz, der Slowakei, Slowenien, Spanien, der Tschechischen Republik, Ungarn und den USA verfügbar.
Wir hoffen, dass diese neue PS5-Streaming-Funktion, die automatisch zur PlayStation Plus Premium-Mitgliedschaft hinzugefügt wird, Anklang bei den Spielern findet. Wir werden uns weiterhin darauf konzentrieren, die Funktionen und Vorteile von PlayStation Plus weiterzuentwickeln – du kannst dich also auf mehr freuen.
*Verfügbarkeit der Spiele variiert abhängig von Region und Tarif. Aufhttps://www.playstation.com/Plus findest du weitere Einzelheiten und Updates zu PlayStation Plus-Angeboten. PlayStation Plus ist ein fortlaufendes Abonnement mit einer regelmäßigen Abonnementgebühr, die automatisch (zum dann im PS Store geltenden Preis) in regelmäßigen und bei Abschluss des Abonnements festgelegten Abständen berechnet wird, bis die Kündigung erfolgt. Bedingungen gelten: play.st/psplus-usageterms
**Erfordert eine Internetgeschwindigkeit von mindestens 5 Mbit/s, 15 Mbit/s für 1080p und 38 Mbit/s+ für 4K.
Website: LINK