Reading Time:
4
minutes
PlayStation VR2-Fans, ihr habt richtig gehört: Unser Physical Action Rhythm-Spiel Pistol Whip hat mit Elixir of Madness soeben sein dreizehntes (!) kostenloses Inhalts-Update erhalten! Diese Sammlung aus phantasmagorischen Freuden beschert euch drei brandneue Szenen, durch die ihr euch tänzeln und schütteln könnt, sowie ein ganz neues Musikgenre, das eure Knochen in Schwung bringen wird.
Lest weiter und erfahrt fünf gute Gründe, warum ihr euch das gruselige Spektakel der Elixir of Madness Collection genauer ansehen solltet … wenn ihr euch traut.
Bald nun ist … Gruselzeit!
Die Tage werden kälter, die Nächte immer länger und länger … genau das richtige Setting für ein bisschen VR-Grusel in Form von Elixir of Madness! Die Collection bietet neue schauerliche Umgebungen, die aus euren lebhaftesten Neon-Albträumen stammen könnten. Dazu kommen Wellen gespenstischer Angreifer und Schrecken, die manch einer als … unerkennbar bezeichnen würde.
(Und das Beste? Kein einziger Jumpscare. Dafür seid ihr viel zu sehr mit Tanzen beschäftigt!)
Tanzende Skelettarmeen
Müssen wir noch mehr sagen? Elixir of Madness wurde von altmodischen Horrorfilmen und den belebten Underground-Swingclubs der 1920er Jahre inspiriert. Das Ergebnis ist wahrhaft glorreich: Eine Skeletthorde, die den Charleston tanzt.
Aber bleibt wachsam, denn einige der hüpfenden Kadaver greifen auf erschreckend neue Art und Weise an. Behaltet den Himmel im Auge – und gelegentlich auch den Boden zwischen euren eigenen Füßen …
Zweihand-Tommy Guns
Mit Elixir erweitert sich euer ohnehin schon beeindruckendes Arsenal um die durchschlagende abgesägte Schrotflinte, den gespenstischen Schädelknüppel und die Tommy Gun mit Streufeuer. Und weil euch Pistol Whip so ziemlich alles zweihändig machen lässt, könnt ihr euren inneren Anzugträger-Banditen rauslassen und mit Pauken und … ähm Waffen loslegen!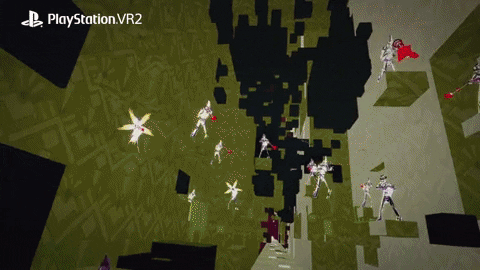 Eine seltsame Geschichte voller kosmischer Schrecken
Nachdem euch unsere Sommer-Season Overdrive fünf einzigartige Spektakel bot, eröffnet Elixir of Madness die Gruselsaison mit einer erschreckenden Szene: Eine schneebedeckte Straße, ein kaputtes Auto, eine vergessene Villa, die euch zu rufen scheint. Nach nur einem Schritt hinein ist euer Schicksal besiegelt: Ihr müsst euch durch gruselige Katakomben, entsetzliche Labore … und sogar euren eigenen verwirrten Verstand kämpfen.
Ein ganz neues Genre: Electroswing
Spätestens seit unserer Film-Kampagne Smoke & Thunder, die uns in den Wilden Westen führte, dürfte klar sein, dass nicht nur Elektro-Dancemusik harte Beats zu bieten hat. Wir sind stolz auf unsere Zusammenarbeit mit den Electroswing-Künstlern Odd Chap, Duke Skellington und dem Electric Swing Circus, die euch drei supercoole neue Songs bescheren, zu denen ihr um euer Leben abhotten könnt. (Lasst euch nicht von den Retrovibes und Messingtönen irritieren – die Szenen werden euch auf der höchsten Schwierigkeitsstufe ordentlich ins Schwitzen bringen!)
Wenn ihr euch noch mehr einzigartige Musikgenres für Pistol Whip wünscht, sagt uns gerne Bescheid. Möglicherweise arbeiten wir sogar schon an etwas mit richtig Power …
Elixir of Madness ist mit all seinen gruseligen Electroswing-Beats in Pistol Whip angekommen, und die erste Szene "Halloween Party" ist jetzt zum Spielen auf PlayStation VR2 verfügbar. Haltet die Augen nach den nächsten Szenen offen, "Kicking Up Dirt" und "My Mind", die im Abstand von je einer Woche erscheinen werden!
Wir wünschen euch eine spektakuläre Gruselsaison! Sagt uns gerne, welche der neuen Elixir of Madness-Szenen euch bis in eure Träume verfolgt!
Website: LINK