Reading Time:
3
minutes
Everything old is new again! Arduino users always amaze us with how they put a fresh spin on the most common objects around us: a clock, a board game, a computer… anything can inspire the exciting new entries they share on Project Hub. These are the three builds we selected from August's uploads to highlight our community's advanced skills, resourcefulness, and creativity.
As the saying goes, "With great power comes great responsibility." if you have the electronics knowledge to work in total safety, assembling this fun retro clock is a great opportunity to show off your skills and ingenuity at the same time. Using an Arduino UNO and a Nixie tube – which, unlike an LED, operates at high voltage and therefore must be handled with care – you can read the time off a unique display, even from across the room. Combine multiple tubes to showcase different information!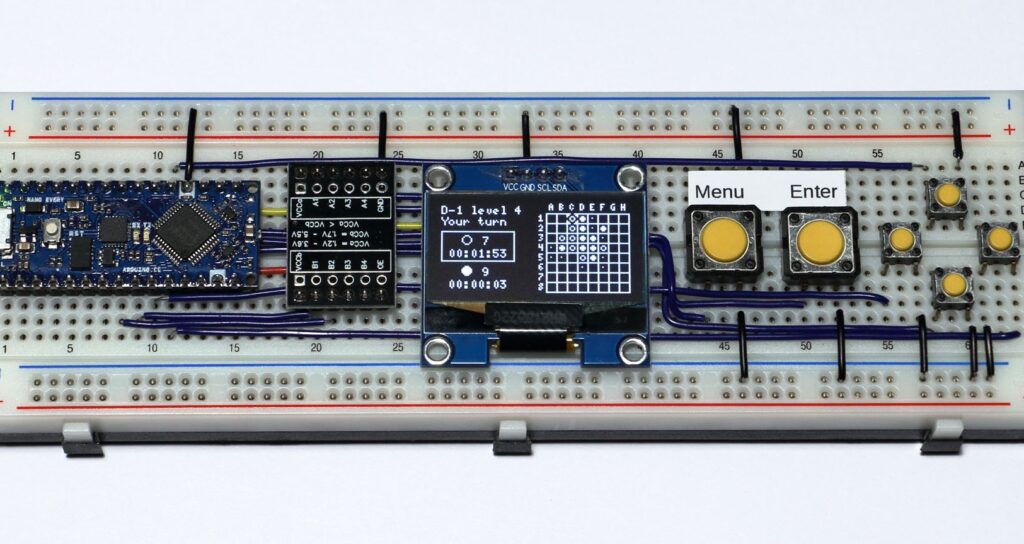 To make or not to make was never the question! We have no doubt you can follow this tutorial to create your own digital version of the traditional Othello game: learn to play, practice, and win – even with minimal hardware. In fact, you can get away with only the Arduino Nano Every board, the Arduino IDE, and a cable to connect the two.
It's the stuff of vintage spy movies, but blends into today's reality – where custom technology can truly be at your fingertips at all times thanks to new, accessible components. Based on two 2023 releases from Arduino – the Nano ESP32 and UNO R4 – yokonav's debut contribution to Project Hub demonstrates how to stack hardware to form a small, functional computer that runs on Linux.
For your chance to be selected for a $100, $300 or even $500 gift card to spend on the Arduino Store, submit your best project on Project Hub! We will be awarding three new entries every month, as detailed in the complete terms and conditions. Good luck!
The post Old meets new with these three Project Hub entries from August appeared first on Arduino Blog.
Website: LINK