Reading Time:
2
minutes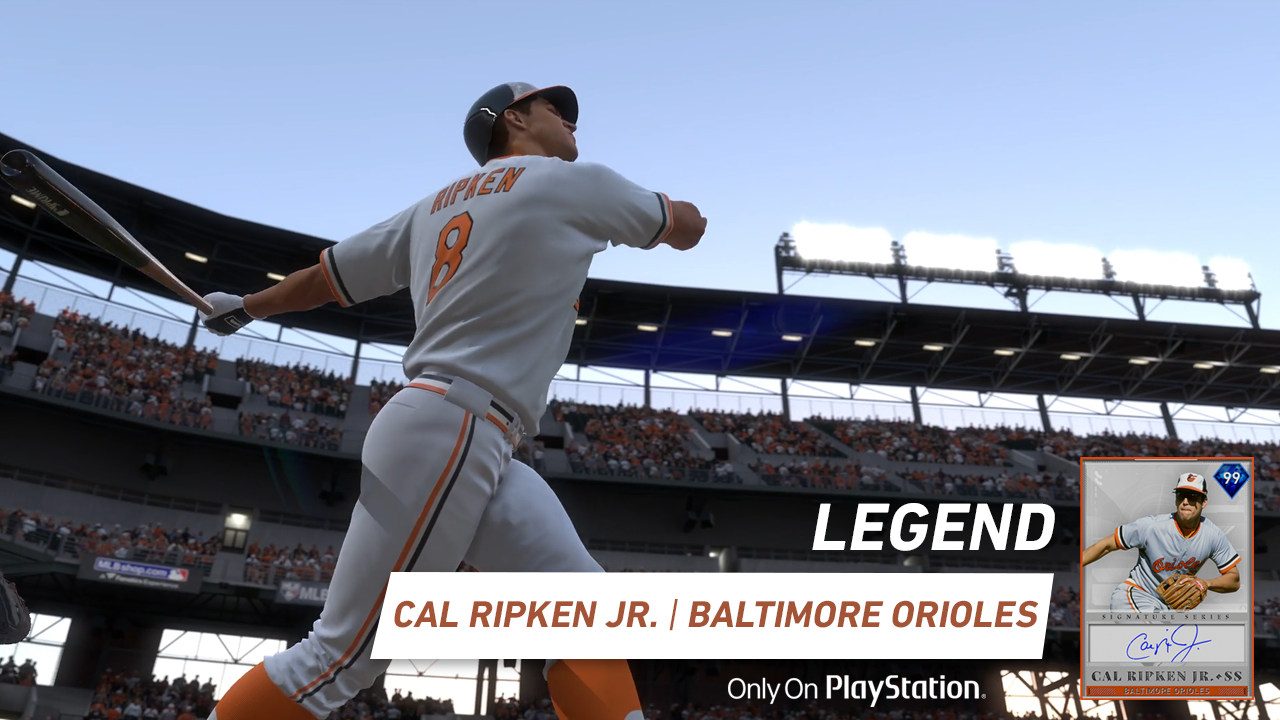 The 4th Inning Program goes live in MLB The Show 19 at 12:00pm PT. With this update (Internet connection required) you can choose from three new diamond player rewards, including Cal Ripken Jr. All three of the bosses are Signature Series 98-99 overall!
Each week since the launch of MLB The Show 19, there has been new content to the Diamond Dynasty mode at no additional cost once you own the game. This week's update includes:
New Program with Diamond choice packs, customized equipment and stadium sounds.
New Moments to relive some of the most storied baseball memories from the last century.
Rewards in single-player Conquest mode and in the multiplayer Ranked Seasons where you bring your best team to the field.
4th Inning Program Bosses
Battle the new bosses in pressure-packed games, or play with them in fast-paced Moments. As you complete Program challenges and games, you will earn Program Stars to unlock a special choice pack that lets you keep one of three Bosses. Who will you choose?
1. Signature Series Cal Ripken Jr. (SS)
The Iron Man is one of the most beloved players in Baltimore history. Choose this Legend if you want a shortstop with amazing fielding and throwing who can also hit the long ball.
2. Signature Series Andrew McCutchen (CF)
Are you looking for that anomaly with speed and a big bat? Then choose the MVP outfielder Andrew McCutchen, who has made five All-Star appearances and four silver slugger awards.
3. Signature Series Billy Wagner (CP)
Do you need a lights-out closer to round-off your squad? Billy Wagner has the uncanny ability to get outs that you need. Choose Billy the Kid and you will never feel regret in the ninth inning.
Earn Program Stars
The 4th Inning Program brings new Moments featuring major events in each Boss's career as well as opportunities to battle against them in fantasy situations with your Diamond Dynasty team.
Earn Program Stars by:
Playing games in Diamond Dynasty
Completing daily Missions
Completing all goals in the new 4th Inning Conquest Map
Completing 4th Inning Moments
Earn Program Rewards
On the journey to 300 Program Stars where you can claim your Boss Choice Pack, you will unlock a number of unique rewards. There are more choice packs with Gold and Diamond players, custom equipment, bat flip animations, a unique patriotic Louisville Slugger bat skin to equip to your Created Player or your Diamond Dynasty squad, and much more.
Look for more 4th Inning Content to arrive next week. Play ball!
Days of Play Sale!
Get MLB The Show 19 and Stubs on sale now! Get 20% to 40% off on MLB The Show 19 Stubs ending on June 17.
Follow MLB The Show on Twitter, Instagram, Twitch, YouTube or Facebook and be up-to-date on all of the latest content releases, and roster updates.
*PlayStation Plus required to play multiplayer modes.
Website: LINK