Reading Time:
5
minutes
Located in the southwestern tip of England, Cornwall is one of Great Britain's most historic and beautiful regions. So when a developer has its eye on building new structures in a small village right in the heart of it, things can get complicated pretty fast.
When it comes to coastline views, success means thinking ahead. You have to tread carefully and know exactly what your impact will be. Wrong moves are not only a potential legal issue, they are a fast path to neighborhood wrath. Especially if what is lost is a prized view.
That's where Marraum Architects comes in.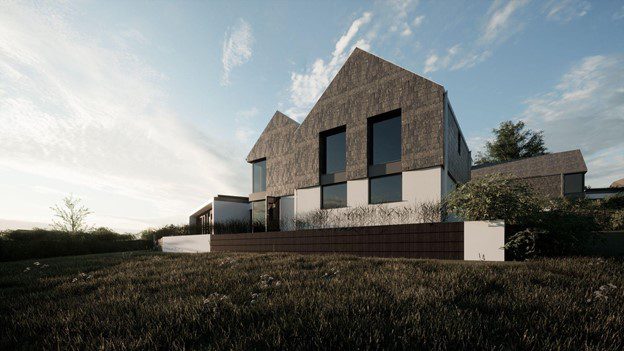 Based in the coastal town of Penryn, architectural firm Marraum specializes in finding new ways to help clients realize visions through real-time technology. In an industry where artistic renditions just don't cut it anymore, Marraum has moved exclusively into VR, using it for over six years to offer clients a way to explore future developments, and suggest iterations before developers break ground.
Recently, they put this method to great use in an upcoming coastal project, enabling clients to find an optimal, neighborhood-friendly design with the help of Twinmotion and HTC's new VIVE Pro 2.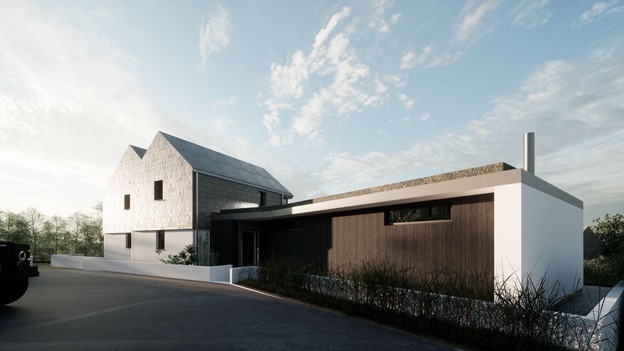 The benefits of a digital view
For this small village project, Marraum was tasked with carefully designing three bespoke residential houses. Due diligence was done, of course, to ensure the structures would satisfy future residents, but after seeing the plans the client had a few minor concerns. No matter how detailed a set of plans may be, it's still difficult to fully appreciate things like the size of the rooms, or how structures would complement (or detract) from their surroundings, without being there.
"The challenge was that each design had to be tailored to differing briefs, yet still work together as a whole," says Adam Laskey, co-owner and director of Marraum. "The actual site has a gradient, so it was important to understand how each property sits, and how they can benefit from the views. Working in VR enabled our clients to fully understand the whole scheme, which also meant the changes for the next stage of the development were extremely thorough and clear."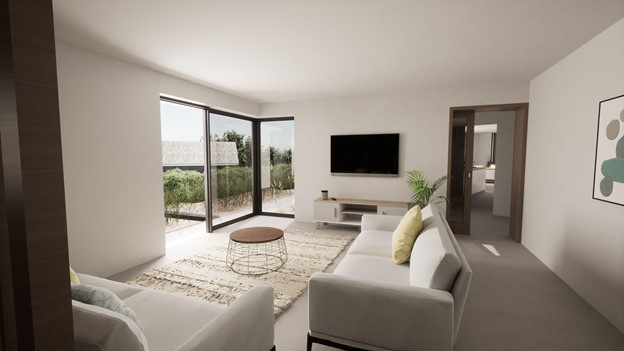 Once Marraum's designers added their BIM models to Twinmotion, they were able to recreate the environment as it currently stands—including sight lines and placement of the neighbors.
"We wanted our client to walk away knowing how each property interacts with one another," Laskey says. "The plot has amazing water views, so we had to carefully position the buildings on the site to ensure that the future residents would be able to take full advantage of the scenery, all without detracting from the neighbors or dealing with restricted views. With VR, they could see it all from their virtual windows and gain that peace of mind."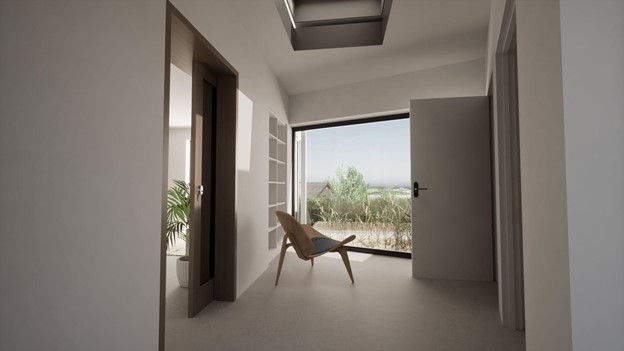 By wandering around the prospective houses in VR, the client was also able to understand the true scale of the build. The rooms—which seemed small on paper—proved much more spacious in the experience, giving the client what they needed to feel confident about the design and any suggestions they made in the moment.
The path to photorealism
Marraum began experimenting with VR nearly 10 years ago with a basic Google Cardboard. Four years later, they were fully embracing VR, making it the first architectural firm to use it in the region and do it all in-house. They started with a combination of Archicad, VIVE VR HMD's, and a basic VR package. It got the job done, but the output was also limiting. Models lacked the high-definition quality available today, while the experience was best served in short, small doses to avoid eye strain, lag, and overall discomfort.
Things quickly changed, however, once they learned about Twinmotion. Now, they've been using it for years
"Our previous VR software package was a lot simpler. The graphics were not as good as they are now, and it didn't always provide a pleasant experience for our clients," says Laskey. "Twinmotion lets us work in more detail and content, which ups realism and increases immersion during walkthroughs."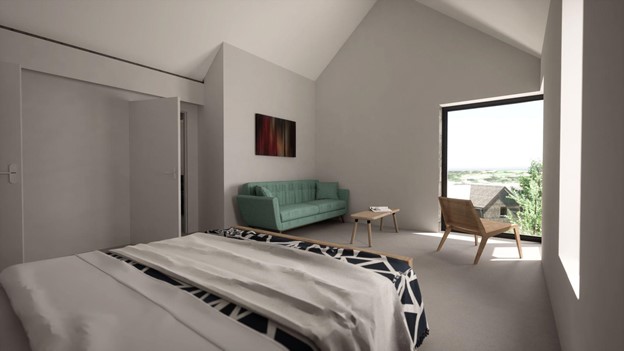 For the Cornwall project, however, Marraum reached a new level. As a regular VR user himself, Laskey has followed the development of headsets and immediately pushed for Marraum to embrace HTC's VIVE Pro 2, upgrading their previous VIVE headsets that had replaced the Cardboard almost right away, over six years ago. Along with a more comfortable fit, the new headset also significantly reduced latency and offered a class-leading 5K resolution for highly realistic textures. For a model that encourages exploration, being able to remove the lag that frequently comes when people quickly turn their heads in VR is a huge step forward.
With the new hardware in place and photorealistic VR models running in Twinmotion, the clients didn't just engage in the model, they embraced it, spending over two hours exploring the VR creation. It was simply a better experience overall.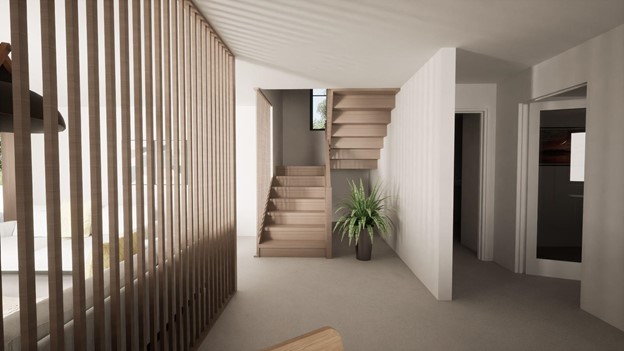 Beyond Cornwall
While the Cornish development may add a new chapter to the storied history of this coastal village, the results show how impactful VR walkthroughs continue to be for both Marraum and the archviz industry as a whole.
With any VR build, engagement is the name of the game. A 3D world might have incredible visuals and enable users to move around it like a dream, but if they are uncomfortable the whole time, that's all they'll take from it. By blending Twinmotion and the VIVE Pro 2, firms like Marraum are finding ways to remain competitive, as they continue to break down the hesitations that hold projects back.
"The use of the new tech has enabled us to refine and get results much quicker than before," says Laskey. "The ease of use and the reasonable setup costs mean we can offer VR as standard across all of our projects. This has also helped increase clients' understanding of their projects and reduced changes during the construction process, which saves them both time and money."
Website: LINK