Reading Time:
2
minutes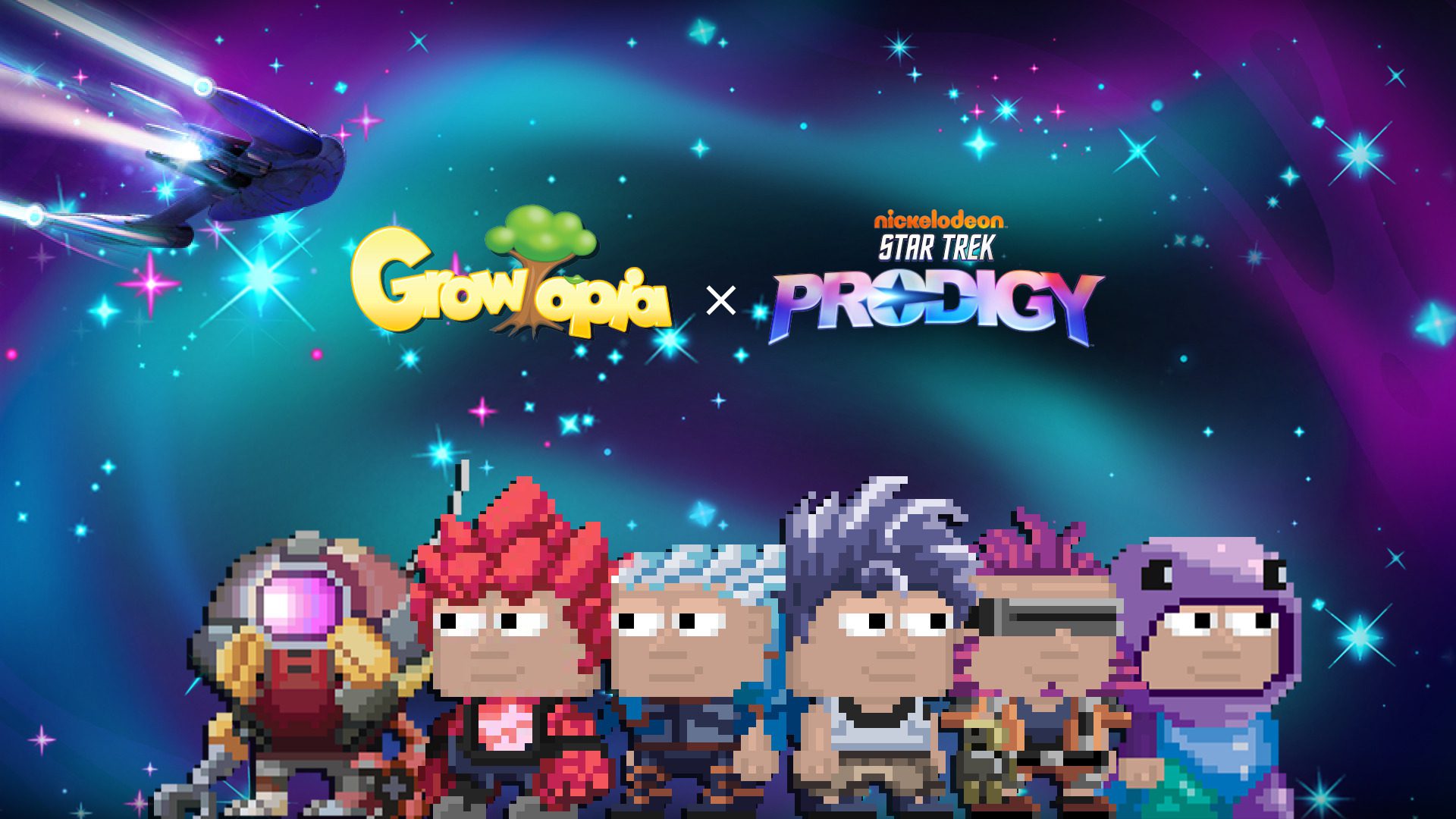 Düsseldorf, 28. Juni 2022 – Ubisoft® gab gemeinsam mit Paramount Consumer Products bekannt, dass ein neues zeitlich begrenztes Crossover-Event in Growtopia namens Star Trek: Prodigy ab sofort bis zum 3. Juli auf iOS- und Android-Geräten über den App Store, bei Google Play und auf Windows PC erhältlich ist.
​
​Während des kostenlosen Events können die Spielenden die ikonische U.S.S. Protostar kommandieren und ihren eigenen Kurs in Growtopia bestimmen. Dabei erforschen sie die Tiefen des Universums, und bereiten sich auf herausfordernde Missionen und bevorstehenden Bedrohungen durch Außerirdische vor. Nach Abschluss jeder Mission erhalten die Spieler:innen Belohnungen, welche von Star Trek: Prodigy inspiriert sind, wie zum Beispiel den Protostar-Kapitänssitz und den Fahrzeugreplikator. Mithilfe seltener spielinternen Gegenstände, die es zu finden gilt, kann man sich zudem vollständig in die Lieblingsmitglieder:innen der jungen Crew verwanden, darunter Dal, Gwyn, Rok-Tahk und Jankom Pog.
​
​Growtopia wird von Ubisoft Abu Dhabi entwickelt und ist ein kostenloser MMO-Sandbox-Plattformer mit Crafting-Elementen, der den Spielenden einen Rahmen und die Werkzeuge bietet, um interaktive Welten zu erschaffen, in denen Samen gesammelt, Bäume gezüchtet, geerntet und kombiniert werden können, so dass wiederum neue Gegenstände erforscht werden können, um diese zu bauen, Handel zu treiben oder einzigartige Welten zu dekorieren. Growtopia, dessen Kernstück die Individualisierung und Kreativität ist, bietet auch eine große Auswahl an Minispielen, von Parkour-Herausforderungen und Rennen bis hin zu PvP-Kämpfen und Labyrinthen.
---
Pressemitteilung_PDF 20220628_Growtopia_StarTrek.pdf – 76 KB
---
Weitere Informationen zu Growtopia gibt es unter: growtopiagame.com
​
​Die neuesten Nachrichten zu allen Spielen von Ubisoft gibt es unter: news.ubisoft.com
​
​Angebote zu Ubisoft Spielen gibt es im offiziellen Ubisoft Store unter: https://store.ubi.com/de/home
​
​About Paramount Consumer Products
​Paramount Consumer Products oversees all licensing and merchandising for Paramount (Nasdaq: PARA, PARAA), a leading global media and entertainment company that creates premium content and experiences for audiences worldwide. Driven by iconic consumer brands, Paramount Consumer Products' portfolio includes a diverse slate of brands and content from BET, CBS (including CBS Television Studios and CBS Television Distribution), Comedy Central, MTV, Nickelodeon, Paramount Pictures and Showtime. With properties spanning animation, live-action, preschool, youth and adult, Paramount Consumer Products is committed to creating the highest quality product for some of the world's most beloved, iconic franchises. Additionally, Paramount Consumer Products oversees the online direct-to-consumer business for CBS and Showtime programming merchandise, as well as standalone branded ecommerce websites for Star Trek, SpongeBob, South Park, and MTV.
Website: LINK