Reading Time:
3
minutes
Moonhack is a free global, online coding challenge by our partner Code Club Australia, powered by Telstra Foundation. It runs once a year for young learners worldwide. In 2022, almost 44,000 young people from 63 countries registered to take part.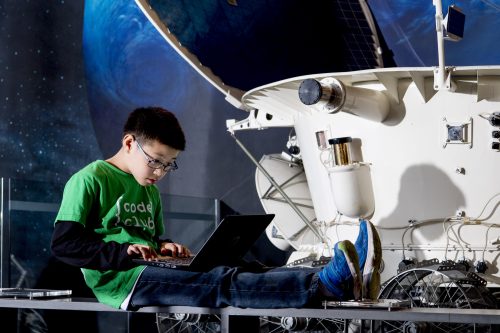 This year, Moonhack will happen from 10 to 26 October, to coincide with World Space Week 2023. The challenge is open to all young learners, wherever they are in the world, and features six brand-new projects that focus on space and innovation. We caught up with Kaye North, Community and Engagement Manager at Code Club Australia, to find out more.
What's new for 2023?
Moonhack 2023 offers access to engaging new projects for Scratch, micro:bit, and Python. For the first time ever, young people will also have the option to follow a project brief to code their own solution to a space-based issue, using a programming language of their choice.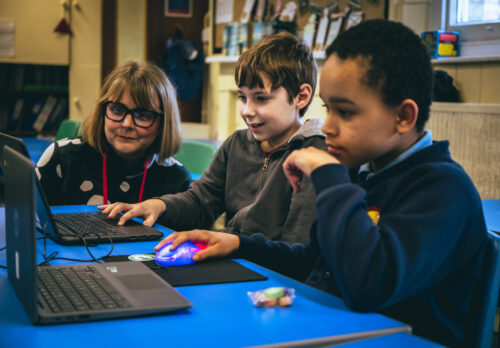 In keeping with this year's theme — which was inspired by the World Space Week 2023 theme of 'Space and Entrepreneurship' — the new Moonhack projects showcase inventions that were created for space exploration but are now used in everyday life, such as mobile phone cameras and LEDs.
Kaye shared that in Australia, inventions created for space travel and exploration are part of the science curriculum at primary school level. She hopes that this year's Moonhack will help more young people understand how space exploration and coding are connected to their daily lives.
What will young people gain from taking part in Moonhack?
Moonhack features six unique coding projects, giving young people of all ages and experience levels the opportunity to engage and learn. The project brief introduced this year encourages participants to be creative, coding a solution on any platform they choose.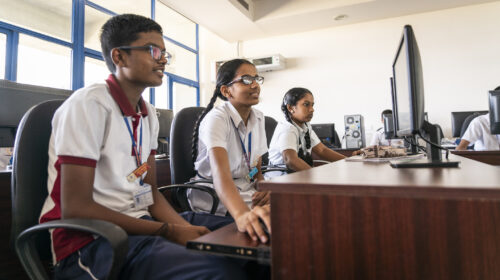 Coders who respond to the project brief will also be in with a chance of having their project selected to be developed into an official Code Club Australia project, for other young people and educators around the world to enjoy.
Kaye emphasised that Moonhack is about more than just taking part in a global event; it also helps young people to better understand the real-world opportunities that coding can offer.
"The more kids we expose this to, the better, expanding coding past just coding and having purpose behind it. And I do try to link things in so that we're connecting with real-world context, careers…"

Kaye North
How your young coders can get involved
Registration for Moonhack 2023 is open now. The challenge runs from 10 to 26 October, and projects can be submitted until 30 November. Participation is free and open to any young coder, whether they are part of a Code Club or not. The 2023 projects are already available in English, Arabic, Croatian, Dutch, Filipino, French, Greek, Hindi, Indonesian, Mandarin, Portuguese, and Spanish, and will be available in more languages soon.
To find out more and register to take part, visit the Moonhack website.
Code Club Australia is powered by Telstra Foundation as part of a strategic partnership with us at the Raspberry Pi Foundation.
Website: LINK