Reading Time:
7
minutes
Fast Travel Games – the creators of the VDA winning sci-fi adventure Apex Construct – are back with an all-new all-ages experience that will challenge your brain and tug at your heart strings. The Curious Tale of the Stolen Pets arrives tomorrow on Viveport, so we sat down with this talented crew of developers to find out what went into crafting this adorable tale.
Interview by Nathan Allen Ortega, Viveport Staff
[youtube https://www.youtube.com/watch?v=jrrXVDzW1FQ?feature=oembed&wmode=opaque&w=730&h=411]
Tell us a bit about yourself and the team at Fast Travel Games
My name is James Hunt and I am a Sr. Animator by trade, and now taken the role as Creative Lead for The Curious Tale of the Stolen Pets. Our team at Fast Travel Games is 17 people right now, most with background in traditional video game development. We are based in Stockholm Sweden, and we create VR games with a focus on story, characters and world building.
How did the concept of The Curious Tale of the Stolen Pets come to be?
I came up with the idea for The Curious Tale of the Stolen Pets in December last year and pitched it to our founders. They really liked it and asked me to lead the creation of the game. My vision was to make a game that would be accessible and could be enjoyed by anyone, regardless of age or gaming preferences. I really liked the idea of having small worlds in front of you that you could interact with, and believed that it would be wonderful to do so in VR.
The Curious Tale of the Stolen Pets is a pretty big departure from your previous title – the critically acclaimed sci-fi adventure Apex Construct. How did your experience developing that title shape the direction of The Curious Tale of the Stolen Pets?
We learnt a lot from making Apex Construct. It was our first game, and we had to do a lot of research into what preferences VR players had, how long their gaming sessions were, all kinds of things.
[youtube https://www.youtube.com/watch?v=CN1RsJkUvwk?feature=oembed&wmode=opaque&w=730&h=411]
Apex Construct is of course a first person action/adventure so it meant we had to cater for a lot of different locomotion styles – the game actually offers over 30 different options in the Settings menu. While that is a good thing for that kind of game, we really wanted to make something else with The Curious Tale. Besides from language and sound, there is literally no settings options in the game and people should be able to start playing just by using their intuition.
What do you think are essential elements necessary to crafting an engaging piece of VR content that is accessible to everyone?
Making it easy for players to start engaging with the game is key. We believe VR is all about immersion and being able to play by using your intuition. It does a lot to help players believe in the experience. It's also a question about believability: If we want players to engage and immersive themselves in our games, they have to believe in the worlds we present, they have to be curious about it – so attention to details and a sense of wonder is also important.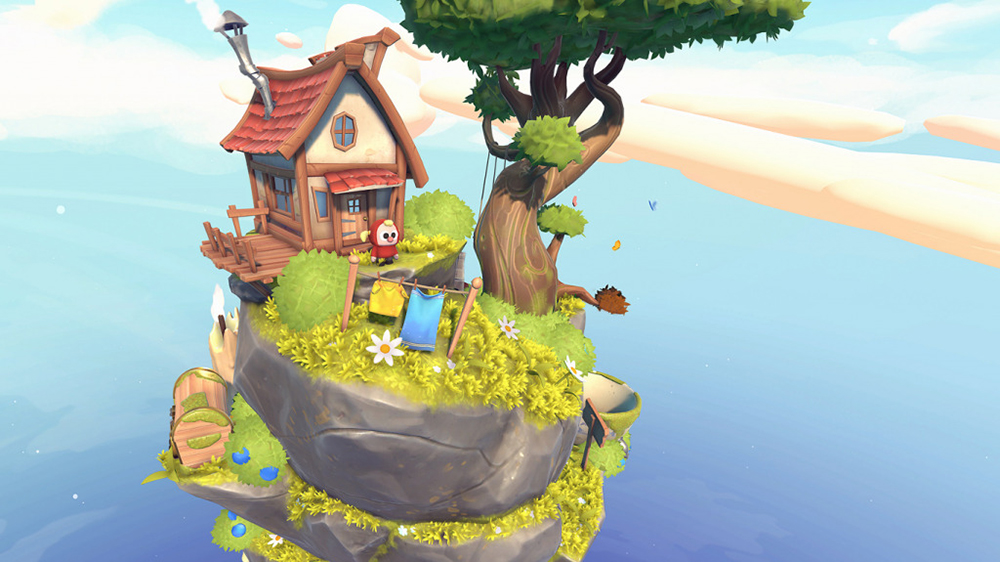 The Curious Tale of the Stolen Pets tasks players with exploring vibrant 3D environments filled with things to interact with in order to recover the titular pilfered pets. Talk a bit about the design process of crafting satisfying and colorful puzzle boxes that are challenging but approachable for every player.
The Curious Tale as an interactive tale, with a narrative that takes you back to the imaginative worlds from your childhood and the relationship between yourself, your sister and your grandfather. And in terms of puzzles, this is not a hardcore puzzle game – you can take your time without time limits or the risk of fail states. We really encourage the player to be curious and experiment with all the interactive details. There are of course some puzzles that will require some creative thinking though.
Were there any ideas/puzzles/concepts that you wanted to work into the experience but found it difficult to work into the final build of the game?
Not really. We still have many ideas for worlds, puzzles and mechanics that didn't make it into this game but could show up in future Curious Tale games if that ever happened.
What were your main artistic and design influences on The Curious Tale?
Definitely claymation for the characters and their animations. We made them simple on purpose and animated on every other frame to give them a clay feeling. The overall look of the game is inspired by art and games we like such as Captain Toad: Treasure Tracker.
The Curious Tale has been shown off at events such as XRDC. Have you been surprised by any particular pieces of feedback from players so far?
Maybe not surprised, but thoroughly happy that all kinds of people seem to enjoy the game a lot! From younger players with no VR experience, to the more core players, everyone has really been highly impressed with the game and many left smiling! Of course, winning the 'best Immersive Game' award at the Raindance Film Festival was unexpected, especially given the competition in our category, but shows we have really created something special with this game.
How many people worked on The Curious Tale and how long was the development process?
We started with 2 people and towards the end, 8 people were involved. It has been a small team with a lot of heart.
What do you want players/viewers to take away from their time with The Curious Tale?
I would love for them to get a sense of wonder from these detailed miniature worlds we have created, and hopefully feel that they want to return to them again and again!
Given that Apex Construct and The Curious Tale of the Stolen Pets reach pretty different audiences – is variety of the kinds of experiences you develop a priority for Fast Travel Games?
I think variety is important at this stage in this relatively early stage in the VR games industry, where many studios try things for the first time. There is no genre fatigue yet, although the wave shooters genre became somewhat crowded early on. For us, it's important to experiment while staying true to our philosophy of focusing on story, characters and world buildings. Apex Construct, The Curious Tale of the Stolen Pets and the upcoming Budget Cuts 2 are all examples of this.
Your team is also working with Neat Corporation on Budget Cuts 2 – the follow up to the hilarious VR workplace experience. Talk a bit about how that collaboration came to be.
[youtube https://www.youtube.com/watch?v=WKWOUVljBgM?feature=oembed&wmode=opaque&w=730&h=411]
We actually used to share offices back in the early VR days! We have known and respected each other for a long time, bouncing ideas off each other like "wouldn't this be cool in Budget Cuts" etc. One day we just started talking about making the sequel together, using the best of our combined ideas to make something spectacular. It has been exciting for us to work with the game, and we cannot wait to release it on December 12!
What are your thoughts on the future of VR and AR and where do you hope to see the technology develop going forward?
I think we will see VR becoming more accessible for a wider audience, which really excites me. Seeing more headsets becoming wireless, focusing on ease of access, will do a lot to invite new players to VR. Though I am also excited about the more high-end VR gaming experiences, and there is definitely a market for both!
What's next for Fast Travel Games?
After releasing Budget Cuts 2: Mission Insolvency on December 12, we have something in the works that we are not ready to talk about yet. Without giving any details, we plan to use all the experience we have gathered from making Apex Construct, The Curious Tale & Budget Cuts 2, and put this into a game that we believe will be something truly spectacular. More about this in 2020!
Exciting to hear! Thanks a bunch for taking the time to chat – we can't wait to see what you have coming next. : )
The Curious Tale of the Stolen Pets arrives on Viveport November 14th – warm up your headset of choice and get to saving these adorable rascals!
Website: LINK