Reading Time:
6
minutes
Summary
Sea of Thieves' next Community Day will take place from September 17 (10am UTC) to September 18 (10am UTC).
Community Day takes place during a long weekend of celebrations for Talk Like a Pirate Day, including a Pirate Emporium sale and login gifts available from September 15 to September 20.
For the first time on a Sea of Thieves Community Day, reaching the top Community Emissary Grade will raise more Ancient Skeletons across the seas.
We're thrilled to announce that Season Seven Community Day will be arriving on Sea of Thieves' shores on September 17! As a Talk Like a Pirate Day special, this event is going even bigger on the rewards available across the weekend, with a stunning smorgasbord of in-game and out-of-game delights primed and ready for your pirating pleasure.
This latest Community Day will feature a generous Renown boost from the very beginning, speeding up your progress through Season Seven's 100 levels of earnable rewards. But as with our very first Community Day, it's gold and reputation that will be significantly boosted by our community tweet-along this time. That multiplier will be in your hands as all players work together to raise the Community Emissary Grade. Everyone using the #SeaofThievesCommunityDay Twitter hashtag from 10am UTC on the day will be contributing to that effort, with the maximum level of Community Emissary Grade Five offering a handy two-and-a-half times the amount of gold and reputation until the end of the event.
Not only that, but for the first time ever, Grade Five will unlock an increased spawn rate for Ancient Skeletons for the rest of the event! When smashed, these particular skeletons drop a random number of Ancient Coins that can be claimed by you and your crew. These can be spent in the Pirate Emporium, where the stock ranges from amazing ship sets and weapon collections to costumes, pets, and even emotes – so you won't want to miss your chance to slash some of those high-value skellies on the day! Especially as our Pirate Emporium shopkeepers will also be slashing their prices for the occasion.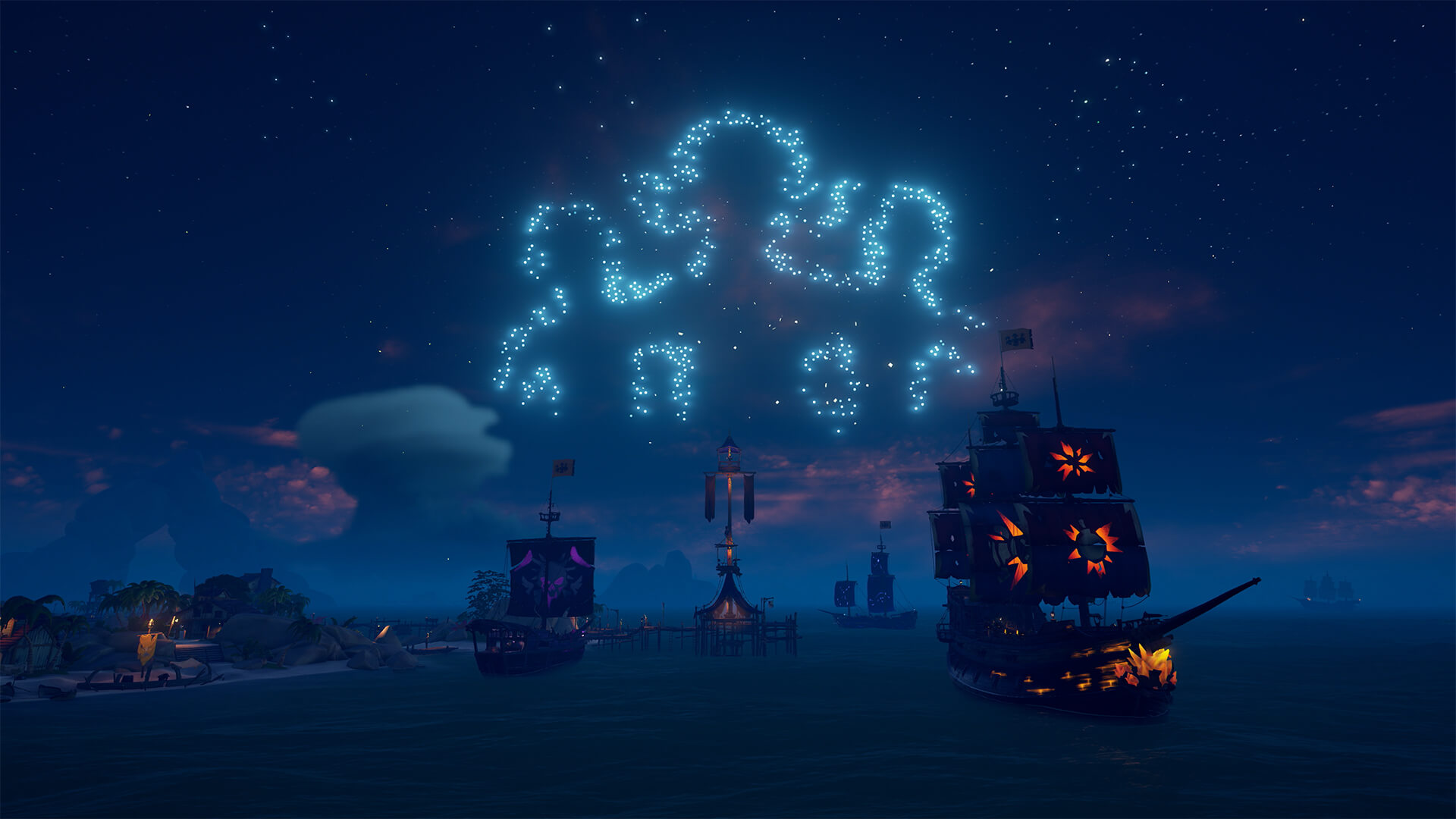 ---
More Gifts and Goodies
---
From September 15 to September 20, players will be able to pick up a stunning array of celebratory fireworks from the Merchant Alliance – and even just logging in will earn you a free emote. The Arrrgh! Emote will go straight into the Vanity Chest of all sailors who play Sea of Thieves during the event period, and you'll also find the Ranting Rogue Emote available to pick up for free when you visit the Pirate Emporium during that time. Perfect for all your Talking Like a Pirate needs.
Of course, Community Day brings a themed login bonus of its own, with the free Season Seven Community Day Flag ready to be hoisted high for September 17's event. Our Rare merchandise store sale returns for Community Day too, with a Season Seven commemorative T-shirt and flag available to buy for a limited time over the weekend. And all you pirates who love real-world loot can use the discount code COMMUNITYDAY to get 30% off Sea of Thieves items!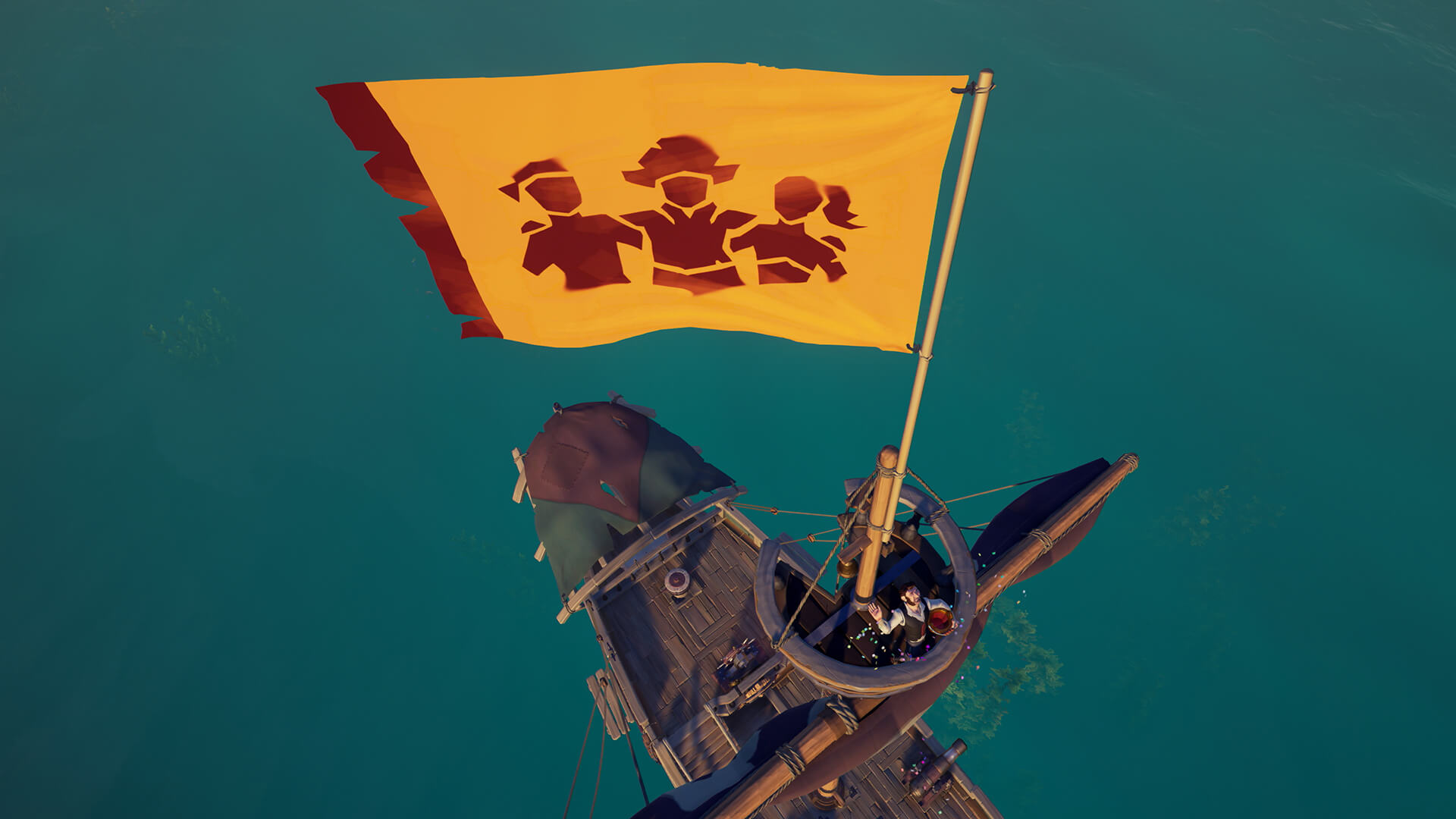 With Community Day also comes a celebration of our amazing artists, players, creators and community MVPs – so as is customary, we'll be scouring our channels and the #BeMorePirate hashtag for amazing Sea of Thieves stories from now until the end of the big day. Wow us with your creations and adventures this Community Day, and worthy winners will be awarded the Hat of Unfeasibly Glorious Fame! So if you think you or one of your crewmates deserves attention, as well as a particularly rare and fetching hat, you know what to do.
Twitch will also be getting in on the party, with the Gilded Phoenix Hull available via Twitch Drops between September 17 (10am UTC) and September 18 (10am UTC). Watch any participating streamer play Sea of Thieves for an hour to spruce up your ship with this glorious golden hull – and anyone can offer this Drop, not just Sea of Thieves Partners! Meanwhile, if you'd like to spend some time watching Sea of Thieves TV, we'll be running an event stream of our own which puts you, the community, firmly in the driving seat of the broadcast. Tune in on the day to take control of our stream team as they venture out onto the Sea of Thieves and undertake a wild journey of your choosing…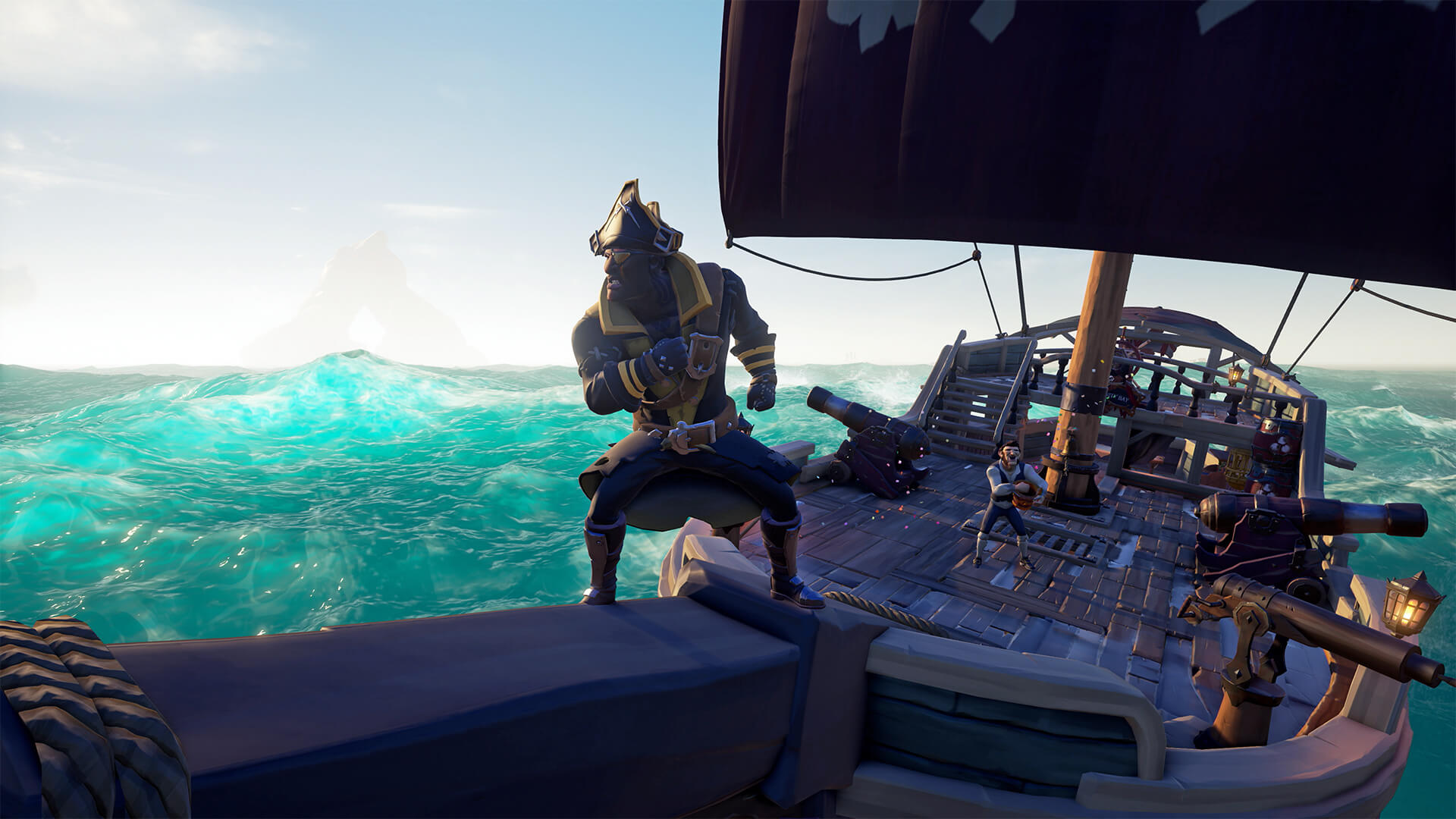 While there's a lot of gold and glory on offer, don't forget: the real journey is the friends we make along the way to bagging big rewards. Community Day is the space in our calendar for coming together and celebrating everything that makes the Sea of Thieves so wonderful to sail upon – and that's you, our players. We hope you can join us to share the love for the pirate's life (and language!) over this special weekend, so mark your maps for Sea of Thieves Season Seven Community Day on September 17. We'll see you on the seas!
---
Find Out More
---
For more information on Sea of Thieves' regular updates, including full release notes, visit the Sea of Thieves website. Updates are available for free to all Sea of Thieves players who have bought the game on Xbox Series X|S, Xbox One, Windows 10/11 PC or via Steam, or players who have access to it with Xbox Game Pass. Simply download and install the latest Sea of Thieves update to get access.
New to Sea of Thieves? Find out about the latest free content updates on our What's New page, get familiar with Who's Who or pick up some gameplay tips from our Pirate Academy, which provides invaluable information on topics ranging from sailing to swordplay as you prepare for your maiden voyage. Learn more about Sea of Thieves here, or join the ongoing adventure at www.seaofthieves.com where you can embark on an epic journey with one of gaming's most welcoming communities!
---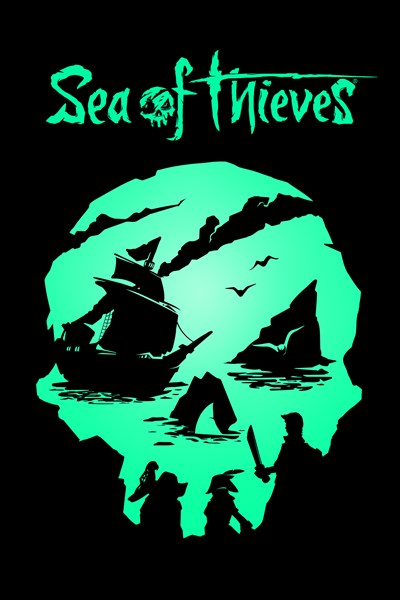 Sea of Thieves
Microsoft Studios
Xbox One X Enhanced
PC Game Pass
Xbox Game Pass
Xbox Live Gold membership required to play on Xbox One; sold separately. ========= About the game
Sea of Thieves offers the essential pirate experience, from sailing and fighting to exploring and looting – everything you need to live the pirate life and become a legend in your own right. With no set roles, you have complete freedom to approach the world, and other players, however you choose. Whether you're voyaging as a group or sailing solo, you're bound to encounter other crews in this shared world adventure – but will they be friends or foes, and how will you respond? A vast open world
Explore a vast open world filled with unspoiled islands, sunken ships and mysterious artefacts. Take on quests to hunt for lost treasure, seek out cursed Skeleton Captains or gather valuable cargo for the Trading Companies. Go hunting and fishing or choose from hundreds of optional goals and side-quests. Unforgettable stories
Play through the Tall Tales to experience Sea of Thieves' unique take on a story-driven campaign. With 11 tales to play through across two epic storylines, these immersive and cinematic quests provide around 30 hours of the ultimate pirate fantasy. Become Legend On your journey to become a Pirate Legend you'll amass loot, build a reputation and define a unique personal style with your hard-earned rewards. Adventurer. Explorer. Conqueror. What will your legend be? A game that's always growing
With five major expansions and almost a year's worth of monthly updates, Sea of Thieves is a service-based game that is continually growing and evolving. Check back each month to see what new content has been added.
Related:
Smash Boxer Set for Rumbleverse Now Available as a Perk for Game Pass Ultimate Members
Gunfire Reborn At gamescom 2022
CrossfireX: Enter the Massive Babylon Update
Website: LINK