Reading Time:
3
minutes
Wir möchten Gaming für alle Spieler zugänglicher zu machen. Daher freuen wir uns, heute bekannt geben zu können, dass Barrierefreiheits-Tags diese Woche weltweit im PlayStation Store auf der PS5-Konsole eingeführt werden.
Mithilfe von Barrierefreiheits-Tags können Spieleentwickler detaillierte Einblicke in die in ihren Spielen unterstützten Barrierefreiheitsfunktionen bieten. Wenn ihr verschiedene Spiele-Hubs im PlayStation Store auf PS5 durchsucht, könnt ihr eine Liste der Barrierefreiheitsfunktionen anzeigen, indem ihr auf die "Dreieck"-Taste drückt, wenn das von euch ausgewählte Spiel Barrierefreiheits-Tags unterstützt. Diese reichen von Einstellungen für die visuelle und akustische Barrierefreiheit bis hin zu DualSense Controller-Optionen, Schwierigkeitseinstellungen und Online-Kommunikationsfunktionen wie Chat-Transkription.
Clip mit Barrierefreiheits-Tags im Spiele-Hub von The Ghost of Tsushima Director's Cut auf PS5.
Barrierefreiheits-Tags stehen für PS5- und PS4-Spiele im PlayStation Store auf PS5 zur Verfügung. Wenn sowohl PS5- als auch PS4-Plattformversionen verfügbar sind, könnt ihr die Barrierefreiheits-Tags für jede Version über ein Dropdown-Menü vergleichen.
Mit den Barrierefreiheits-Tags könnt ihr leicht erkennen, ob das Spiel, das ihr spielen möchtet, die gewünschten Optionen für Barrierefreiheit umfasst. Im Folgenden findet ihr eine Auswahl der mehr als 50 Barrierefreiheits-Tags, die Spieleentwicklern in sechs Kategorien zur Verfügung stehen:
Visuelle Barrierefreiheitsfunktionen wie Klartext, großer Text, Farbalternativen, akustische Signale und Audio-Richtungsanzeiger.
Audiofunktionen wie Lautstärkeregelung, Mono-Audio, Screenreader und visuelle Alternativen für Hinweise.
Untertitel- und Beschriftungsoptionen , einschließlich Schriftgröße der Untertitel, klare Beschriftungen und große Beschriftungen.
Steuerungsoptionen, einschließlich Tastenneuzuordnung, Daumenstick-Empfindlichkeit und der Möglichkeit, ohne Halten von Tasten, schnelle Tastendrücke oder Bewegungssteuerung spielen zu können.
Gameplay-Optionen wie Schwierigkeitseinstellungen, überspringbare Rätsel, vereinfachte schnelle Zeitevents und Spielgeschwindigkeit.
Online-Kommunikationsoptionen wie Text- oder Sprach-Chat-Transkription und Ping-Kommunikation.
Barrierefreiheits-Tags im PlayStation Store für PS5 werden diese Woche schrittweise für die Spieler veröffentlicht. Zur Veröffentlichung werden verschiedene Spiele wie Days Gone, Death Stranding Director's Cut, Ghost of Tsushima Director's Cut, God of War, God of War Ragnarök, Gran Turismo 7, Marvel's Spider-Man Remastered, Marvel's Spider-Man: Miles Morales, Ratchet & Clank: Rift Apart und Returnal Barrierefreiheits-Tags unterstützen. Wir beginnen gerade mit der Einführung dieser Funktion und arbeiten mit einer Vielzahl von Entwicklern zusammen, um diese Funktion in den kommenden Wochen und Monaten in ihre Spiele-Hubs auf PS5 zu implementieren.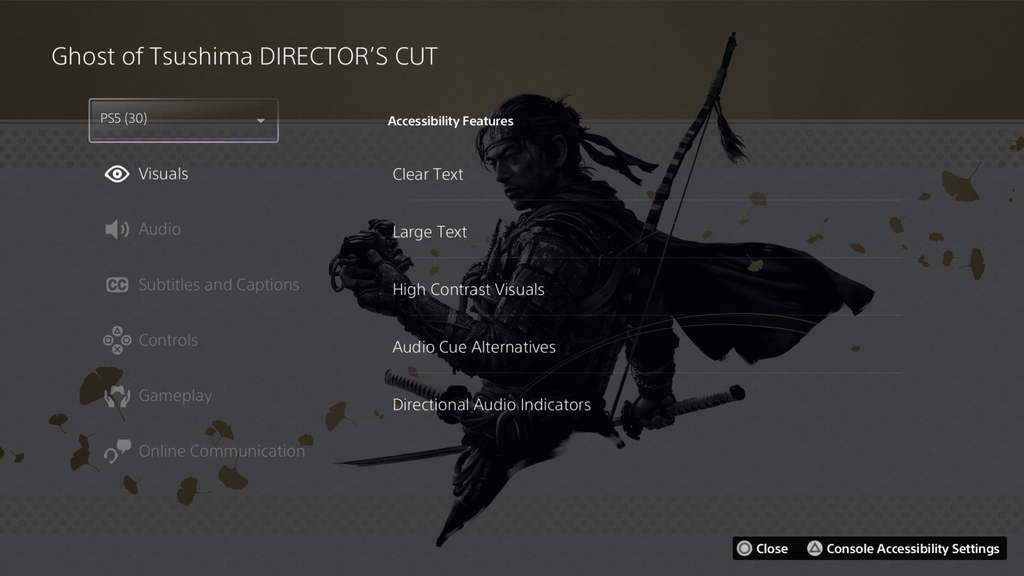 Screenshot mit Barrierefreiheits-Tags im Spiele-Hub von The Ghost of Tsushima Director's Cut auf PS5.
Zusammen mit der breiten Palette an Barrierefreiheitseinstellungen in der Benutzeroberfläche der PS5-Konsole ermöglichen euch Barrierefreiheits-Tags, euer PS5-Spielerlebnis an eure individuellen Spielanforderungen anzupassen. Sie sind der jüngste Schritt auf unserem Weg, Gaming barrierefreier zu machen, zusammen mit integrativ gestalteten Spielen von PlayStation Studios und kommenden Produkten wie Project Leonardo. Vielen Dank für eure anhaltende Unterstützung. Wir freuen uns auf euer Feedback zu dieser Funktion und auf Rückmeldungen darüber, wie wir die Barrierefreiheit von Spielen für unsere Community weiter verbessern können.
Website: LINK