Reading Time:
3
minutes
Summary
Trove's winter event is back until December 29 with new quests, rewards, and decorations.
This year, the adventure takes players into Delves to gather mysterious Subzero Shadowflakes in exchange for mounts, allies and other goodies.
Help the Trovians to save Snowfest!
Trove's merriest event is upon us and brings new mysteries, rewards, and beautifully decorated world. Feast your eyes on the Hub that is now a winter wonderland and share the joy with us in Snowfest until December 29.
Deep within Delves, our adventurers have discovered a novel material: the Subzero Shadowflakes! Where do they come from? What can you do with them? And why do they taste bitter on your tongue? In the newest edition of Snowfest, it's up to you to grab your gear and delve into the depths to find out!
Your supportive spirit shall not go unnoticed. In exchange for helping your fellow Trovians with the festive preparations, you'll receive Snowfest Seals. These little coins can be turned into mounts or Frosty Treasure Boxes for wonderful winter-themed rewards.
If you feel extra merry, you'll be drawn towards the Present and Tree dungeons you can now find all over Trove – but don't let all the glorious gifts and comfy candlelight fool you. Watch out for the Mimics hiding between the precious loot. Actually, you may want to turn around there for a second…
Do you want to travel in style this season? Then leave your sleigh at home and hop onto your Shadow-Stitched Snowfest Quilt which you'll get for completing our event adventure quest. Giddy up! Many more costumes and styles are available to turn you into a Cookie Conjurer or a Lederhosen Lancer and make your Snowfest experience whole. And if you missed out on last year's event, don't look so glum, for you'll also have the chance to complete your collection.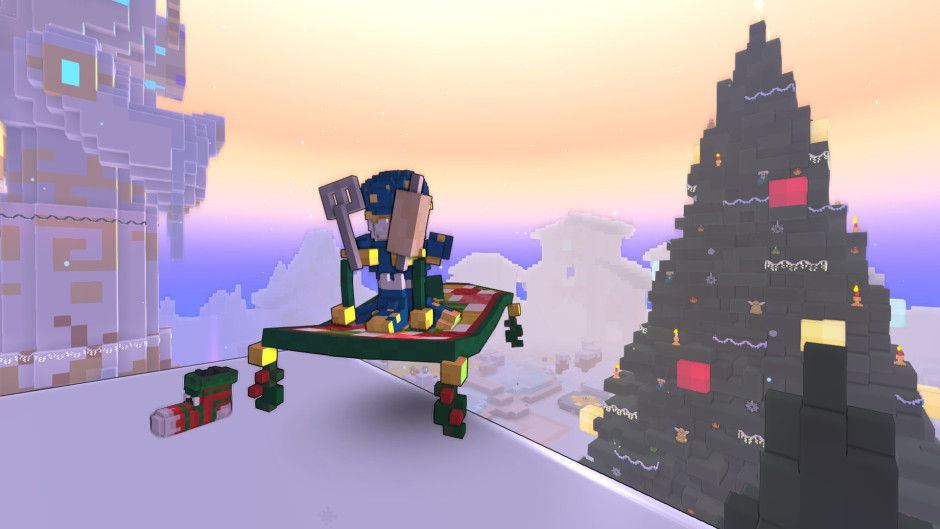 Together with you, we can convince even the grumpiest grouch to celebrate this merry season with us. Join us in the Hub and let the joyous Snowfest spirit reach every corner of Trove!

Trove
Welcome back to a bigger and better Hub than before! "Hubdate" is filled with features you could have found through menus, but now have a physical form and home! A similar update will come to console platforms as well in the near future. Be sure to visit the Hub and check out the Hub Guide for more info. Let us know your new favorite hangout at the Hub! Lots of other changes and fixes have also been added in this patch so prepare to discover new Delve bosses, dungeons, styles, and much more. So what are you waiting for? It's time to dive into Trove and see for yourself what's new!
Related:
Update on EA Play: Coming to Xbox Game Pass for PC in 2021
LeBron James, Bugs Bunny, and Xbox Invite Fans to Create a Space Jam: A New Legacy Video Game
1000 Days of Play! Sea of Thieves Celebrates with Free Gifts, New Audio Book and More
Website: LINK