Reading Time:
5
minutes
Hello Everyone,
Our little Hello Games team had a big year in 2020, releasing six huge, free updates for No Man's Sky. We are even more excited for what 2021 has in store! Today, we're very pleased to release our first major update of 2021: Companions.
Ever since travelers encountered their first creatures on their first planet in No Man's Sky, it seemed inevitable that you would want to befriend them and invite them to join you on their inter-galactic journeys.
The Beyond update in 2018 introduced the concept of feeding, riding, and even milking a vast range of animals in the game. Companions takes this to a whole new level in a huge new update.
Travelers are now able to adopt the creatures they encounter and form close bonds with them. They will travel side-by-side with you as you adventure through the universe, both as a friend and as a valuable aide on your voyage. Train them to scan for resources, mark out hazards, provide light, hunt dangerous fauna, find settlements, excavate buried treasure or even mine for materials with their own shoulder-mounted mining lasers.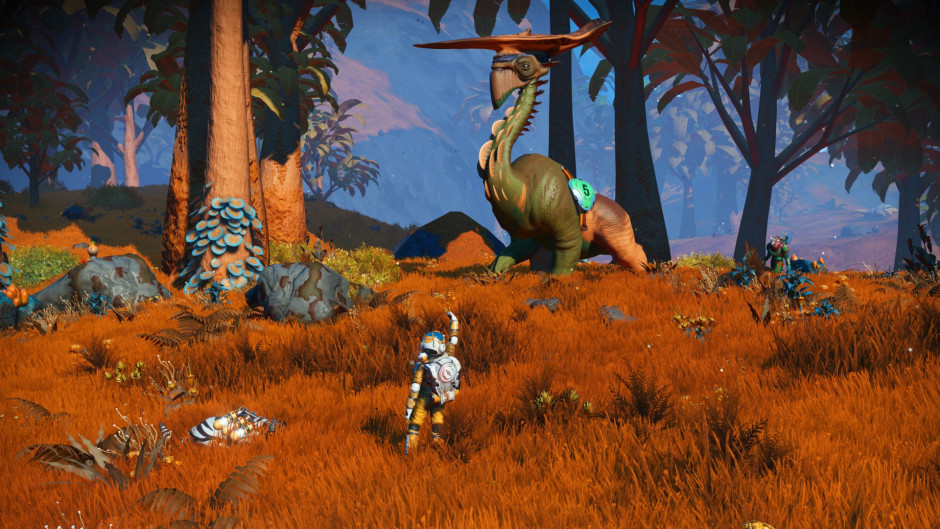 If properly nurtured, your companion will lay eggs which can be collected and incubated. Watch in wonder as the new-borns hatch and grow from babies to full-grown adults! Use the Space Anomaly's new Egg Sequencer to genetically modify your companion's eggs into ever-wilder species.
Give your companion a unique look with a wide range of customisable accessories and decals. Created a rare and noteworthy creature? It could be valuable and sought-after. Why not trade their eggs with fellow travellers?
Creature personalities are defined by their species and ecosystem such that no two creatures are alike, and their personalities develop further as you deepen your bond with them. Your faithful friend will roam the planet with you as you explore, and can be patted, fed, and played with. Upon encountering other travellers and their companions, they may become frightened, playful, or even aggressive, based on their own unique personality.
Every adopted creature is equipped with a neural harness that connects directly to the Exosuit. Your companion's innermost thoughts will be translated and sent directly to your internal communication channels. Feel the connection with them grow as you play with them, feed them, and go on adventures together.
2020 for our small dev team proved to be one of our busiest yet with no fewer than six free updates to No Man's Sky, including our big variation update Origins, our introduction of cross-play and the Xbox Series X|S Next Generation update. On top of that all was our entry into Xbox Game Pass in June which saw several million new travelers warp into the universe for the first time.
The Companions update is the first update in another busy year for No Man's Sky and is available to download free to existing owners from today.
Our journey continues.
No Man's Sky
Hello Games
Xbox One X Enhanced
PC Game Pass
Xbox Game Pass
No Man's Sky comes complete with all 12 major updates up to and including Origins, our 3.0 update which dramatically expands the universe. Inspired by the adventure and imagination that we love from classic science-fiction, No Man's Sky presents you with a galaxy to explore, filled with unique planets and lifeforms, and constant danger and action. In No Man's Sky, every star is the light of a distant sun, each orbited by planets filled with life, and you can go to any of them you choose. Fly smoothly from deep space to planetary surfaces, with no loading screens, and no limits. In this infinite procedurally generated universe, you'll discover places and creatures that no other players have seen before – and perhaps never will again. Embark on an epic voyage At the centre of the galaxy lies a irresistible pulse which draws you on a journey towards it to learn the true nature of the cosmos. But, facing hostile creatures and fierce pirates, you'll know that death comes at a cost, and survival will be down to the choices you make over how you upgrade your ship, your weapon and suit. Find your own destiny Your voyage through No Man's Sky is up to you. Will you be a fighter, preying on the weak and taking their riches, or taking out pirates for their bounties? Power is yours if you upgrade your ship for speed and weaponry. Or a trader? Find rich resources on forgotten worlds and exploit them for the highest prices. Invest in more cargo space and you'll reap huge rewards. Or perhaps an explorer? Go beyond the known frontier and discover places and things that no one has ever seen before. Upgrade your engines to jump ever farther, and strengthen your suit for survival in toxic environments that would kill the unwary. Share your journey The galaxy is a living, breathing place. Trade convoys travel between stars, factions vie for territory, pirates hunt the unwary, and the police are ever watching. Every other player lives in the same galaxy, and you can choose to share your discoveries with them on a map that spans known space. Perhaps you will see the results of their actions as well as your own…
Related:
The Future of Game Accessibility on Xbox
Save up to 60% in the EA Sale on the Xbox Store
Immerse Yourself in the Future of Gaming Audio with the Xbox Wireless Headset
Website: LINK