Reading Time:
2
minutes
Kurz nach der Veröffentlichung von Age of Empires IV im letzten Jahr teilte Xbox mit der allerersten Community Roadmap einen kleinen Ausblick auf die Zukunft des Titels. Das Team hat seitdem einen genauen Blick auf das Community-Feedback geworfen und versteht noch besser, bei welchen Zivilisationen und Maps kurzfristige Anpassungen vonnöten sind. In diesem Zusammenhang etablierte Xbox bereits im Januar die 1v1-Ranglisten-Vorschau.
Mithilfe des Community-Feedbacks gibt Xbox nun einen umfassenderen Ausblick auf die nächsten fünf Monate von Age of Empires IV. Das erste große Update im Jahr 2022 und der offizielle Start der Ranked Season stehen vor der Tür. Die gesamte Age of Empires Community hat mitgeholfen, diese Welt zu pflegen und weiterentwickeln. Der Titel zeigt, dass es ein ganzes Dorf braucht, um etwas Großartiges zu erschaffen.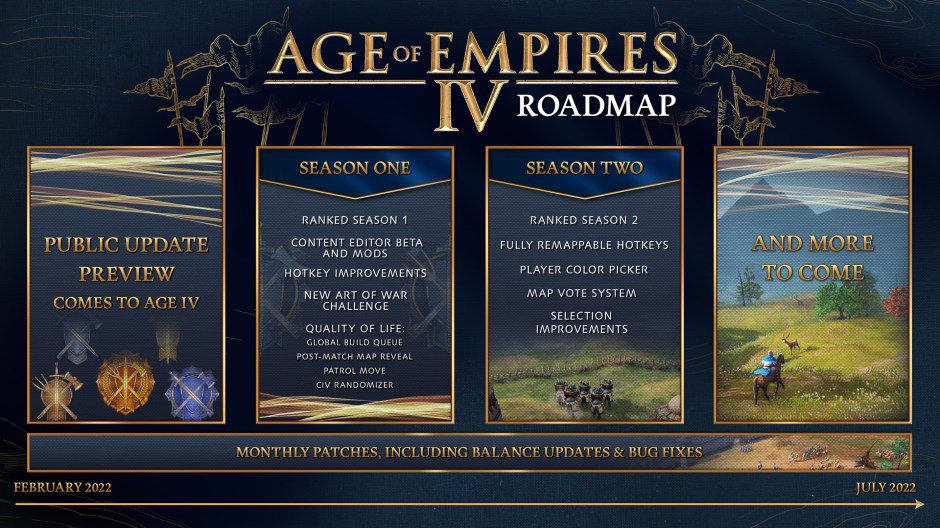 Für einen genaueren Einblick in die Updates von Age of Empires IV geben wir Dir hier einige wichtige Hinweise:
Seasons kommen allen Age of Empires IV-Spieler*innen zugute, egal ob Du Dich für den Wettkampf mit anderen interessierst oder lieber im Single-Player-Modus unterwegs bist.
Du erhältst mehr Einblicke in die Strategie zur Verbesserung des Spiels – einschließlich des Plans, viermal jährlich größere Updates zu veröffentlichen. Diese halten verbesserte Funktionen und neue Inhalte bereit. Zwischen den großen Updates bügeln monatliche Patches kleinere Unebenheiten im Spiel aus.
Die Änderungen sollen nach aktuellem Plan im Juli 2022 verfügbar sein. Bitte beachte, dass sich einige dieser Pläne noch in einem frühen Entwicklungsstadium befinden. Sollte sich an dem Zeitplan etwas ändern, erfährst Du es hier natürlich als erstes.
Xbox sammelt Feedback und Daten, um Dein Spielerlebnis immer weiter zu verbessen. Hilf mit, Age of Empires so gut wie möglich zu machen.
Weitere Informationen dazu kannst Du hier nachlesen.
Website: LINK