Reading Time:
11
minutes
It might be getting a bit colder outside, but 2022 is far from over–and the stacked lineup of upcoming PS4 and PS5 titles attests to this. The next few months are set to some of the best for PlayStation gamers, offering top-class FPS action, critically acclaimed indie adventures, the return of fan-favorite JRPG classics, and beloved characters exploring new gaming frontiers. And, of course, there's that little game called God of War Ragnarök coming too. With so many exciting new games launching in 2022, let's check out some of the most noteworthy titles to round out the year.
Tunic
An itty-bitty fox in bright green garb goes on a great big adventure in one of the most talked-about indie hits of the year. Tunic is a labor of love from independent creator Andrew Shouldice, who–along with his talented team–has created a delightful isometric action-adventure game that pays homage to genre classics and forms a beautiful and unique world of its own. Find tools, treasures, and abilities, solve environmental puzzles, battle fierce monsters, and even decode a mysterious alphabet to uncover clues to aid you on your quest.
Release Date: September 27 | Publisher: Finji| PS5, PS4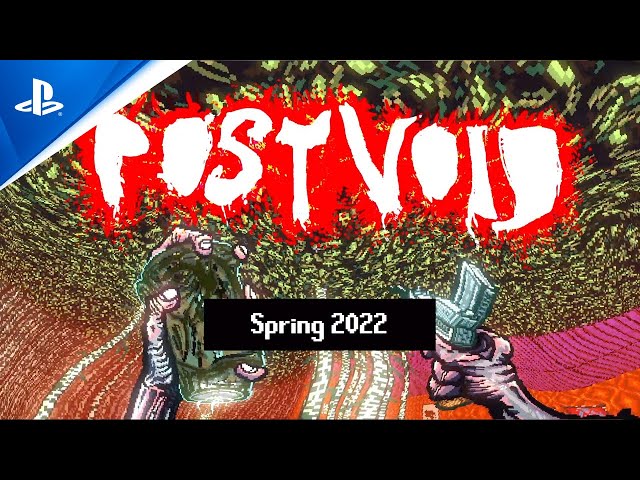 Post Void
Have you ever just had an eye-searing, brain-pounding headrush where blood seems to be pumping and pulsing through your head, and your heart is pounding… but, like, in a good way? Welcome to the world of Post Void, a mix of classic FPS gameplay and brightly-colored, high-contrast visuals designed to make you blissfully uncomfortable. The neon scenery and delightfully grotesque enemies will sear into your eyeballs as you race through retro-styled FPS levels as quickly as possible. Because if you don't move fast and kill everything even faster, your brain will melt (literally in-game, figuratively IRL). Post Void is truly a discordant experience you won't soon forget. (Please note that this game is inappropriate for players with sensitivity to flashing lights.)
Release Date: September 29 | Publisher: Super Rare Games | PS5, PS4
Valkyrie Elysium
There will be plenty of Norse mythology to go around on PlayStation these next few months, starting with Square-Enix's action-RPG revival Valkyrie Elysium. Ragnarök draws near, and a desperate Odin summons a Valkyrie warrior, Maria, the last hope of a world filled with ruin and despair. Aiding Maria are the Einherjar, souls of fallen warriors, each with their own stories and motivations. They grant boons to Maria as she engages in skillful, action-driven, combo-heavy combat. Use the companions and skills at your disposal to build up the Arts Gauge and unleash the glorious Divine Arts upon your foes! Be vigilant, however, because Maria isn't the only Valkyrie in this world with a mission to fulfill. (Don't forget: The digital deluxe edition of Valkyrie Elysium also includes the original all-time PSP classic Valkyrie Profile: Lenneth.)
Release Date: September 29 | Publisher: Square Enix | PS5, PS4
A Plague Tale: Requiem
In this highly anticipated follow-up to fan-favorite adventure game A Plague Tale: Innocence, child heroes Amicia and her younger brother Hugo have escaped the oppressors at home. The Provence region of France seems like a good place for the pair to settle down initially. But the black plague is still spreading, and Hugo's supernatural powers are proving difficult for his young mind to control. Does the secret of Hugo's strange abilities lie on a mysterious island? The duo will again need to go on a dangerous journey, aided only by a few trusted friends. There will be challenging environmental puzzles, new weapons and tools to combat threats, loads of emotional story moments, and rats. Oh, so many rats.
Release Date: October 18 | Publisher: Focus Entertainment | PS5
Gotham Knights
Batman is dead, and without its most prominent crime-stopper, Gotham City's gone to hell in a handbasket. Batman's various proteges–Robin, Nightwing, Batgirl, and Red Hood–now work to clean up the streets and investigate Batman's supposed death. Choose among the four heroes, each with unique combat abilities, and embark on action-RPG missions, uncovering hidden mysteries and confronting a rogue's gallery of famous villains in a stunning open-world Gotham City. But what is a superhero story without an epic team-up? Gotham Knights offers seamless drop-in, drop-out co-operative play so you and an intrepid companion can explore and fight for the future of Gotham City together.
Release Date: October 21 | Publisher: Warner Bros. Interactive Entertainment | PS5
New Tales from the Borderlands
Things are getting weird in the Borderlands universe–weirder than usual, anyway. New Tales from the Borderlands brings players back to one of gaming's weirdest and wildest settings in an all-new narrative adventure set in Promethea. Rather than simply shooting your way out of problems, New Tales from the Borderlands will offer a branching storyline where your dialogue choices will determine where affable jackasses Anu, Fran, and Octavia wind up stumbling next during an extremely miserable day. Well, miserable for them, not for you–you'll be enjoying the bizarre situations, snappy dialogue, and pervasive strange humor that's made Borderlands such an enduring hit as our would-be heroes get themselves into (and out of) another fine mess.
Release Date: October 21 | Publisher: 2K Games | PS5, PS4
Call of Duty: Modern Warfare II
Call of Duty certainly needs no introduction among gamers–it's the biggest and most influential first-person shooter series. In Modern Warfare II, players will experience some of the most sweeping and exciting revisions to classic COD gameplay that the series has ever seen. Improved AI, new movement options like swimming and sliding, better vehicle interactions (like being able to fire out of windows), realistic damage, and a huge overhaul to the Gunsmith that will allow players to fine-tune their weapon attachments to create their ideal firearms.
CoD's much-beloved multiplayer is getting a shot in the arm as well with all-new modes: Knockout, a 6v6 competition to be the last team standing holding a precious package, and Prisoner Rescue, where one team of players attempts to breach a compound to rescue hostages from a heavily fortified structure, while the opposing side defends their turf and works to put them down. Whether you're in it for the campaign or eager to dive into the multiplayer competition–or both–Modern Warfare 2 offers plenty to get excited over.
Release Date: October 28 | Publisher: Activision | PS5, PS4
Skull and Bones
Do you hear it? The call of the high seas… the waters are begging to be conquered and plundered! It's the end of the 17th century, the Golden Age of Piracy, and the Indian Ocean is filled with traders hauling exotic wares from the far east–prime marks for the pirates of the era. Starting as a no-name scoundrel, you will work your way up to becoming the most feared name among the region's seafarers. Sail the vast open waters in a ship you customize, taking quests from various figures of ill repute to build your fortune and your infamy. But beware–rival pirate crews, naval armies, and even the forces of nature threaten to dash your dreams of ocean glory upon the rocks.
Release Date: November 8 | Publisher: Ubisoft | PS5
Sonic Frontiers
The most famous hedgehog on Earth needs little introduction. Sonic's latest adventure takes him and his posse to the Starfall Islands in search of the Chaos Emeralds. Longtime nemesis Dr. Eggman, while trying to uncover the secrets of a lost civilization, tripped the island's advanced security system, opening rifts between the island world and the digital realm of Cyber Space. Sonic Frontiers is the first Sonic game to embrace open-world exploration, allowing players to use various new movement and attack skills to dash, smash, and crash through gorgeous free-roaming environments. You'll also tackle traditional linear 3D platforming challenges in the Cyber Space levels, which hearken back to classic Sonic stages. Can Sonic rescue his friends from Cyber Space, solve the secret of the Starfall Islands, and stop Dr. Eggman's ambitions?
Release Date: November 8 | Publisher: Sega | PS5, PS4
God of War Ragnarök
The long-awaited follow-up God of War Ragnarök follows the adventures of Kratos, his teenage son Atreus, and their advisor Mimir in their journey to stop the impending apocalypse and reveal the secrets of Atreus's destiny. Faces familiar and new will appear on this epic journey through the Nine Realms, including the terrain of Vanaheim, Svartalfheim, and the legendary Asgard.
As tempting as it may be to take in the (stunning) scenery, these are lands of conflict and strife, and Kratos will have to engage in the visceral combat that God of War fans have come to love. New abilities and weaponry, such as the Dauntless and Stonewall shields and new summons for Atreus, add more flair and intensity to fighting than ever. God of War Ragnarök aims to captivate players come November, so be sure you're there to witness the twilight of the gods.
Release Date: November 9 | Publisher: Sony Interactive Entertainment | PS5, PS4
Goat Simulator 3
Have you ever wondered what life would be like if you were a goat with an appetite for fashion and destruction that just happened to have a complex physics engine applied to their daily activities of causing mass chaos? Probably not, but you're definitely curious now. Goat Simulator 3 (don't ask about Goat Simulator 2) is perhaps the weirdest, wildest sandbox game yet. As the titular goat, it's up to you to do something. Anything, really.
The island of San Angora is your playground for goat-y and not very goat-like activities. Jetpacks! Vehicles! Explosions! Weird alien slime! Sports! Customizable Fashion! It's all here for some reason. And what's even better is that you can get together in a herd with your friends for multiplayer madness to lick, headbutt, and have a goat-tastic time.
Release Date: November 17 | Publisher: Coffee Stain Publishing | PS5
The Dark Pictures Anthology: The Devil in Me
Gaming's premiere horror anthology series continues with a brand-new, standalone story. A group of young, naive documentary filmmakers receives an invite to a modern-day recreation of notorious conman-slash-serial-killer H.H. Holmes's infamous "Murder Hotel"–a historical building laden with all manner of diabolical killing devices and traps. Inside the hotel, the film crew soon finds themselves as subjects in the palm of a sick mastermind determined to become the most notorious murderer of all time. Can your posse escape the "killing rooms" and survive a stay in the hell hotel? You can play through this story solo or share the terror with friends: enjoy simultaneous online co-operative play, or see which of you makes it out alive in controller-passing couch co-op. No matter how you play, you're in for the stay of a lifetime, provided your protagonists actually live.
Release Date: November 18 | Publisher: Bandai Namco Entertainment | PS5, PS4
The Callisto Protocol
The survival horror genre returns to the cold, sprawling vastness of space in the Callisto Protocol. Headed up by Striking Distance Studio's Glen Schofield, co-creator of the original Dead Space, this game takes you far, far away to Callisto, a moon orbiting the planet Jupiter, in the year 2320. Protagonist Jacob Lee is serving time at the Black Iron prison colony when a swarm of monstrous creatures begins appearing within the heavily fortified prison walls.
Something truly terrible is going on within these anguish-filled halls, and Jacob needs to discover the prison's hidden secrets–and somehow use the limited resources he can scavenge to escape with his life. But even if you find a means to break out, you still have to contend with an ever-increasing army of rapidly evolving bio-horrors. Remember: they might not be able to hear you scream in space, but your downstairs neighbor will definitely hear you losing it when you're playing The Callisto Protocol at 3am in the dark.
Release Date: December 2 | Publisher: Krafton | PS5, PS4
Marvel's Midnight Suns
When we think of comic-based games, we tend to think of epic superpowered action-adventures. Marvel's Midnight Suns, however, is taking its titular heroes into a different dimension: turn-based strategy. Developed by Firaxis, the masterminds behind the legendary X-Com series of games, Marvel's Midnight Suns is a massive crossover spectacular that offers deep, strategic gameplay that's every bit as challenging and intense as Marvel action games.
Step into the shoes of the Hunter, an otherworldly demon slayer you create and customize as you work to prevent the resurrection of the elder god Cththon. Interact and forge alliances with legendary heroes like Wolverine, Iron Man, Blade, Captain America, and Spider-Man, then command them in battles that test mind and mettle alike. Plan your steps carefully, then leap into combat with a unique card-based action system to utilize your team's powers to their fullest.
Release Date: December 2 | Publisher: 2K Games | PS5, PS4
Crisis Core: Final Fantasy VII Reunion
Zack is back. Crisis Core: Final Fantasy VII Reunion is a remake of the PSP classic that follows Cloud's buddy and up-and-coming Soldier through the turbulent series of events that directly lead into the main story of Final Fantasy VII. A top-ranked Soldier named Genesis has deserted the organization, and Zack needs to track them down and find out what they're up to and uncover some unpleasant Shinra corporate secrets in the process. Old and new players alike will find plenty to love in this comprehensive update, including fully-voiced cutscenes, completely re-done graphics, and a revised combat system that brings elements of Final Fantasy VII Remake's ferocious fights into the mix. And, best of all, you get to spend quality time with Zack, one of FFVII's most beloved (yet often "forgotten") characters.
Release Date: December 13 | Publisher: Square Enix | PS5, PS4
What title launching in 2022 are you looking forward to most?
Website: LINK